TRANSCRIPTION
What were you doing before America entered the war?
America entered the war with Japanese intervention on December 7, 1941. And before that I was going through elementary school, and I remembered in elementary school, I took naps lying on the floor, this is in aside. I then went to elementary school at the training school that was called for Arkansas A&M, which is now the University of Arkansas at Pine Bluff. I spent one year at Merrill High School in the year 1936-37. In 1937 we moved to Little Rock, and I went to Dunbar High School, an all black high school and all black teachers, who were wonderful people, wonderful motivators and I finished in '42. That's what I was doing…" Before the war… "Um huh.".
Maybe you can tell me a little bit about your name Granville?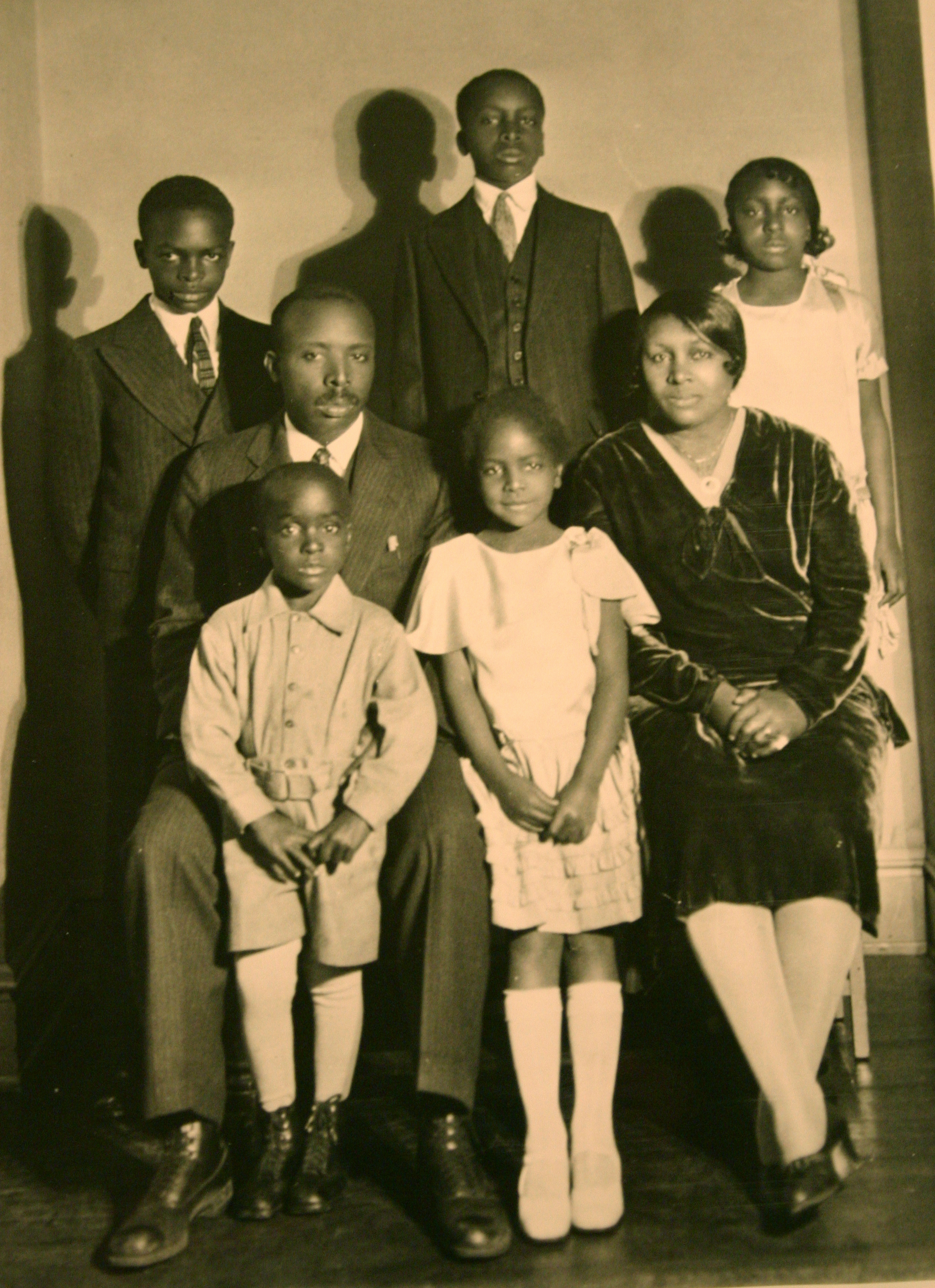 Oh yes, I like my name. And how it came about, my mother was a unique person; I'm amazed at my mother. I'm the fifth child of her five children, and she had hopes for her children's. And I'm her fifth child and she wanted this child to be a musician. And so much so, if this child was a girl, she was going to name it Marian Anderson Coggs, after the contralto Marian Anderson who sings with Eleanor Roosevelt at the Lincoln Memorial. And from Samuel Coleridge Taylor, who's a black musician, he actually was only half black, but the black people claim him, that's what she wanted to name me. But I'll cut to the chase, at a meeting, an evening meeting, where my father was the speaker and his father was in the audience, he described his family and one in the oven as he described me. And his father got up and called my father, and said, 'Doug, if it's a boy name him after my father. His father was named Granville. And I don't where Granville came from, but his father was a slave and so when I was born my mother got half of her wish and instead of named Samuel Coleridge, I'm named Granville, but um, my middle name, yea, she got part of the musician's name Samuel Coleridge Taylor, my middle name Coleridge, after Samuel Coleridge Taylor. And my mother got part of her wish, it's a part of reality, and hard for me to realize, but tonight is March the 12th, 2006 and on March the 31st this Granville Coleridge Coggs will be singing with the San Antonio Master Singers with the San Antonio Symphony and the San Antonio's Children's Chorus in Carnea Burana, so he's something of a musician.

During the war, many things were rationed. Do you remember doing without anything?
"This particular Granville Coleridge Coggs, is an optimist, we were without things, but I don't remember doing without anything. I don't remember being without anything… well, I know rubber was rationed, gasoline was rationed, but it didn't personally impact me and get into my world." So, it wasn't something that you missed? "No, no, and somebody says, 'you can't really miss something that you never had.' But apparently we had gas and rubber before. But, uh, my daily life didn't change.

Before you joined the military, what were your thoughts on the war?
Oh, this was a war for survival. This was a war for survival. And we were happy that it didn't occur any closer to our shores than Pearl Harbor. But it was no question the Japanese, the Germans and the Italians were out to destroy us, and the whole country was mobilized to prevent our destruction. So the war was in my mind and also because I was approaching draft age and people a few years older than I were already over there fighting in the war, and I soon would be scheduled to fight in the war. So it was a war for survival.

What made you enlist in the military?
Oh, the reason that I enlisted was because I was shortly going to be drafted, and I took an option to volunteer for the Black Army Air Corps, which got underway the first class graduated in 1942. And in 1943 was when I was about to be drafted. One of the first members of the first class, Herbert Clark, was from Pine Bluff Arkansas. And Richard Caesar had finished and was flying, so I knew that there was an opportunity, for shall we say blacks with the talent or capability, to instead of being in the infantry and non-commissioned and low paying person, to possibly be a flyer, as an officer, and as a respected person.

Had you ever thought of being a pilot before?
RNot really, but you couldn't escape it from '42 on. These were heroes, 60 years ago, and certainly even now. They, in particularly, the Tuskegee Airmen that fought overseas, prevented white men bombers from being shot down and also shot down a few German fighters. This was, and the recruitment that went on, that was radio recruitment that says, 'Men of 17, you too can fly' and so when I was 17, yea, you didn't even have to be 18, you could be 17 and enlist and go through the aptitude test and could join the Black Army Air Corps.

What did your family think of you becoming a pilot?
Oh, my mother was a cool person. But basically the environment in our house was, if you can do it, do it. And if you think you can do it, you can do it. (laughs) And 80 years later, that still rings true; I'm encouraged to do things beyond what I feel I can do. And, Maud, my wife, is on the same page, she the encouragement right now. I ran a mile today in 11:22 but my goal is to run it in 11, and her encouragement was, 'You Can Do It.' (laughs) So, I didn't do it, but my trainer coach, who I reached by cell phone, he congratulated me on running 11:22. He said, 'That's good.' But, that was the environment. One, if you think you can do it, you can do it. I think that's so important, yeah, you know the environment was… I understand, it's hard for me to imagine that in some cultures and some home environments they say, 'Oh, you can't do that!' That was heresy in my house. (laughs) Yes, siree.

What were your first impressions of military life like when you joined?
Well I went in on December 18th, 1943 in Camp Robertson, Little Rock, Arkansas. That's also my wife's birthday, December 18th. And I was a private, I got the uniforms. They first sent me to training at Kessler Field, Mississippi, Biloxi, Mississippi. And this was in South America, segregated south America. I went on that base and I was there for six or nine weeks, I forgot exactly how long, but I never left the base because the base was an island amix segregated black Mississippi. So I didn't go off the post for what I felt white Mississippian's might do. And the environment of Black Mississippians who lived, well I stayed six weeks on the post and never left that post. And we were trained. I've forgotten exactly what basic training was, right? But I was with the rest of the people, and coming from a household where I came from, if anybody else could do it, I could do it. (laughs) So, we did it. And after 6 weeks, they sent me to Tuskegee Institute for college training, because my aptitude test had qualified me for training as a flying officer, bombardier, navigator or pilot. And my qualifications were higher to be bombardier. And so, they had accelerated everything, previously to be a, to qualify, for pilot training you had to have a college degree in engineering. At Randolph AFB, here is where cadets out of West Point and cadets graduated from Texas A&M with degrees in engineering; that's who got a chance to go to pilot training, and learned, which was reinforced more recently that the first place that military flying took place was here at Ft. Sam Houston, and that was in March, 1910. In 1910 here at Ft. Sam Houston and Actually Randolph AFB was constructed in 1930 and I saw movies, in 1935 I saw the movie named, West Point of the Air, it was filmed primarily at Randolph AFB, and I saw it in a segregated, in the balcony, a black balcony in Singer Theater in Pine Bluff, Arkansas in 1935. As a ten or eleven year old black fellow student I could never imagine myself being a flying officer.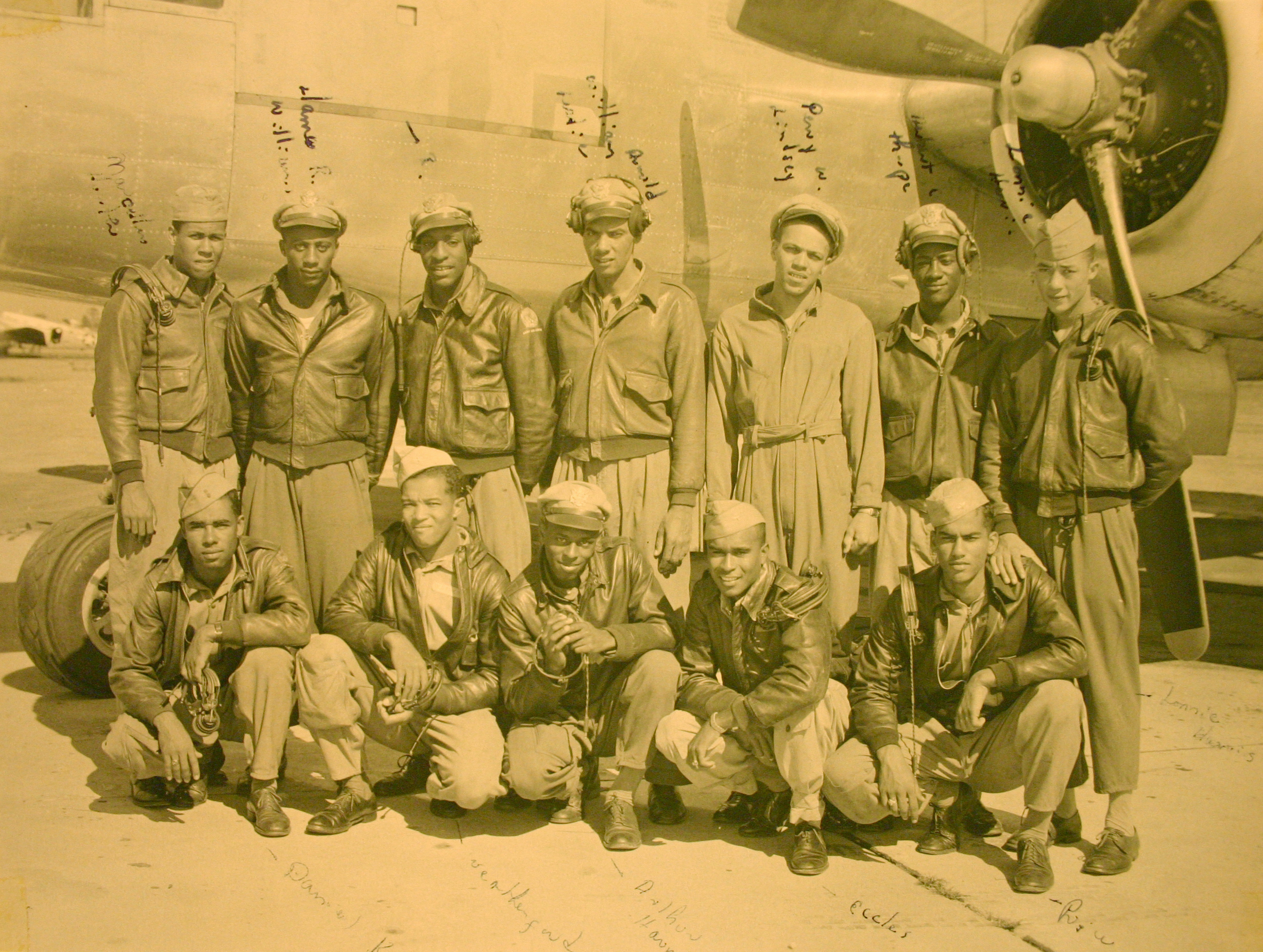 Could you maybe describe a little bit of what your training was like at Tuskegee?
Well here is the training program, and I can tell you what my training chronologically involved. They sent me first to several months of college training at Tuskegee Institute, so we lived on the campus, in what was called the Emory's. The Emory's are still there. And I took mathematics and swimming, and a few other things. But after a few months of college training they sent me from Tuskegee Institute, Alabama to college to Tyndall Field, Florida for Aerial Gunnery Training and I sent six to nine weeks qualifying as a Aerial Gunner, 50 caliber machine guns, because I was slated to become a bombardier, but before you could go into bombardier training you had to qualify as an aerial gunner. So, after six or nine weeks at Tyndall Army Air Field as an aerial gunner, I was sent back to Tuskegee awaiting assignment for bombardier school. This is a little aside, but, I developed appendicitis, had appendectomy, went home to Little Rock for a convalescent leave. Some of my other classmates had been sent elsewhere for bombardier school, but I came back to Tuskegee and during that time is when a new co-ed (His future wife Maud.) had come from Arkansas and I met her. This is a short story, but before I left there they sent me out to Midland Army Air Field for bombardier training and I guess this was from the fall of 44 to January 1945. That's when I was commissioned as a bombardier. And things were at that time, that the experiment, "Can blacks fly fighter planes?" was all settled. And so the military hierarchy decided to go to the next place. Let's set up a medium bomber, a black medium bomber outfit. So, we're going to train a black medium bomber outfit and they had trained more bombardiers than they needed and more navigators, but they needed more pilots and if you had the qualifications for pilot, you could go leave bombardier and go to pilot training, and that's what I elected to do. As a matter of fact, my instructors at bombardiering were Purple Heart survivors of World War II in Europe. I saw those purple hearts and those bombardiers had nothing between them except Plexiglas between them and the flack. So I was glad, instead of being put on a B29 going to the Far East, when the war was still going on, I was sent back to Tuskegee Institute for primarily flying sponsored by the Tuskegee Institute, three months of that roughly, three months of basic training flying an AT-6 at Tuskegee Army Airfield. In my last three months advanced training flying B-25s at Tuskegee Army Airfield, and I finished advanced training in October 1945, this is three months or so after the war in the far east ended. So my war time experience for me was spent in training. But I was a commissioned officer and earned flight pay, and earned respect being a flying officer, and in this case with two ratings.
When did you get your flight wings?
The first flight wing was at bombardier, well, first wings were as an aerial gunner, but this is enlisted people that were aerial gunners; that was in the fall of '44. In January, I got the exact date, 1945, I was commissioned as a second lieutenant at Midland Army Air Field, and so I had new gold bars and new bombardier wings. And I was twenty at the time. (laughs) I really felt on top of the world. That was sixty years ago, and that's gone by real fast.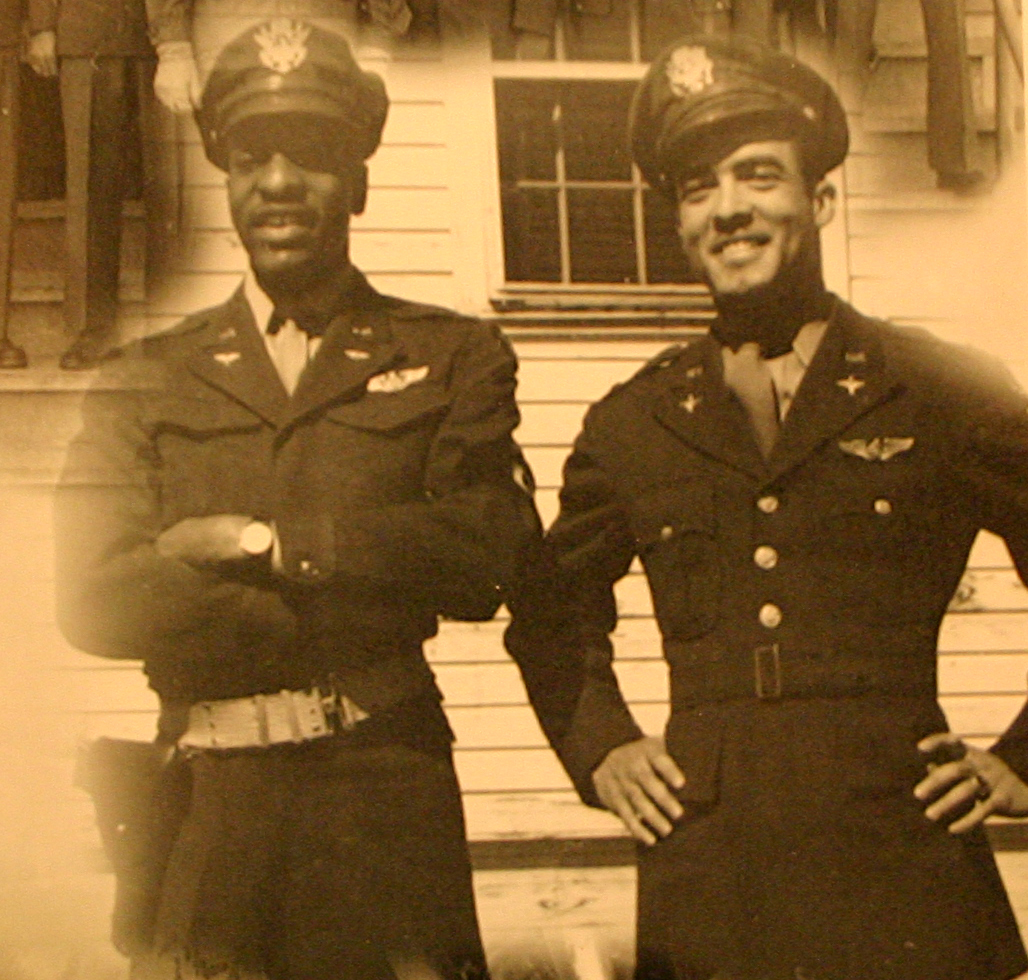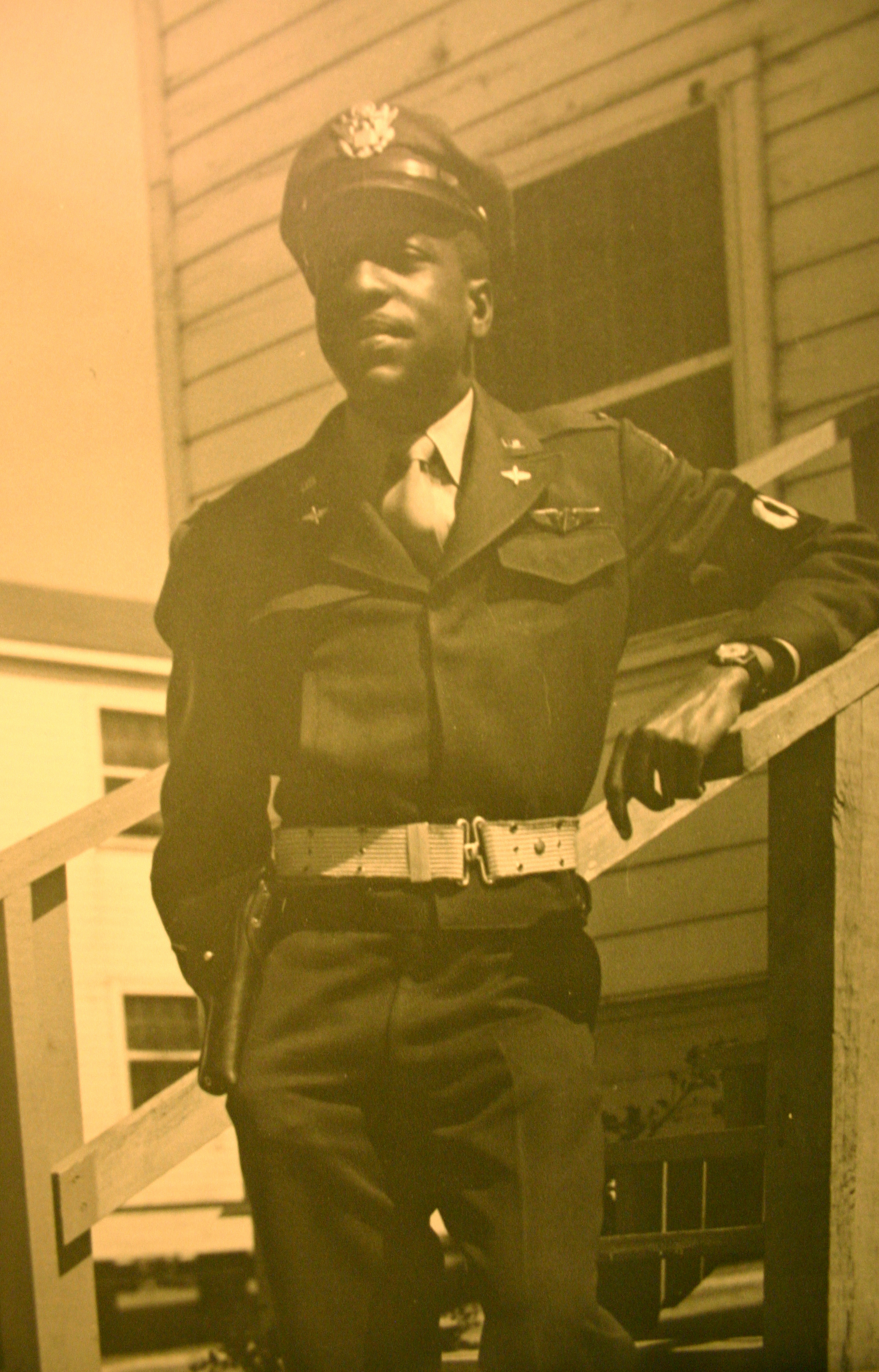 Whenever you were in Tuskegee, was there anyone you stayed in touch with, wrote letters or anything like that?
Tonight! And tonight because it just happens one of the people who went through bombardier with me and pilot training with me is Arthur Carroll Harmon and I'm going to write him and send him a copy of the newspaper article that was in the Fort Sam Leader last month. And another fellow who's is in the video, Nicholas Nubley. When I'm wearing my 45 pistol, officer of the day, he's with me. I've stayed in touch with him.

Are you in contact with any of the pilots from Tuskegee?
There are two, and I've been writing to one, over this weekend I've got one in the mail. One who's on the photo montage there is Nicholas Nebulan, he's in Cincinnati, Ohio and I call him on his birthday. And another fellow, Arthur Carroll Harmon, he flew B-25, and he settled in the San Francisco Bay area. So, I kept in contact with him. Those are the main two people. Plus, an original, what I call an original Tuskegee Airman, one who went overseas and fought, was Richard Caesar, and he's now a retired dentist, in San Francisco. And I talked to his sister the other day and I'm sending him an article that came out in the newspaper about me. He identifies being a Tuskegee Airmen.