Interview
Ray: How far back does your family tree extend in Mason County?
Jane Hoerster: Three, no, four generations because my grandmother Hofmann came over in the early 1870's and she brought over two sons and a daughter. They were the first ones to come here. They came here because her sister was living here. Her two sons remained in Mason. They both became merchants. One became a carpenter/undertaker. He was the first undertaker in Mason, and my grandfather Hofmann ended up owning Hofmann Dry Goods which lasted here over a hundred years. He also bought ranches. The other brother centered instead on his building and his mortuary. The Mason Funeral Home was the one that belonged to the Hofmann family. It lasted for over a hundred years. The dry goods store and the mortuary are gone now.
Ray: Ma'am, do you know when the treaty was finalized that allowed the settlement of Mason because I've read different things about different meetings that were held between Mr. Meusebach and Chief Ketemoczy. Mr. Meusebach had different meetings with different chiefs, but do you know when the final one was?
Jane Hoerster: Well, I don't know what year it was. I believe it was 1847, but I'm not sure of that.
Ray: There was supposedly a proposal on the San Saba.
Jane Hoerster: Yes. It was on the San Saba River. The first time that he met with the Indians was here in town. It's right outside on highway 87. German settlers did not start coming until the 1850's. It's very difficult to say who these settlers were. They're called the German people and the Anglo people. Of course, they're all Anglos. But the Anglos that came were Scotch-Irish along with some English. The German people started settling along the Llano River. They came into Art which is now located on the Llano Highway. I always felt that Mason was a meeting ground for the different nationalities because the Germans came from Fredericksburg and the others came from other states. It was a meeting ground for the two cultures, so it took a little while to get used to it. My grandmother's name was Brandon, which is Scottish. That family is believed to have come into the Carolinas. Grandfather Valliant's people immigrated into Maryland. Both families were in the States before the American Revolution. The two families drifted into Mississippi, Alabama, and then on to Arkansas. They came to Texas after the Civil War. James Ranck was called the father of Mason. He owned a lot of things here, and he went broke too. He was a bachelor, but he brought members of his family such as his nieces and nephews as well as the Loring and Bridges families. The Bridges built the two-story Mason House that sits on the corner of the square. The Crosby, the Wheeler, and the Gamel families were the big ranchers at that time. Mason became a county in 1858 but it didn't have a courthouse until after the Civil War. The land that was given by the county seat was down around Comanche Creek. Then after the Civil War, Tom Gamel and his wife as well as W. P. Lockhart and his wife donated the land for the town of Mason. This land included the town square, the school square, and the spring square. The spring square was just up here. The school square was close to the Lutheran church. What really opened up the country was, of course, the building of the forts.
Ray: Can you give me a short version of the Mason County War because from what I've read, I couldn't get a good grasp of the information in a summarizing way.
Jane Hoerster: I don't think anyone knows. That's why it's called the Hoo Doo War. It was happening all over the state, but it was taking a little bit of a different turn in Mason. I think it had something to do with the Civil War because a lot of people say Mason County was against Secession from the Union. I think it had the highest number of votes to stay within the Union. Some people felt that it was that, and there's always going to be friction between people who don't quite understand each other. The laws didn't help matters at that time, and that was another thing that brought it about. Frankly, I think that the Germans had very set ideas about how things should go. They were used to having a lot of government control, not that they wanted it, but they knew what their property was. They cared for it. They didn't particularly want other people running around on it. Then, of course, were the cattle drives. The first cattle started drifting in from North Texas to the central and southern parts of Texas with the first norther. In the spring, ranchers from the north with their cowboys would come south in the area where their cattle were and start the roundups. Their cattle would have to be separated from the local ranchers' herds. Then both parties drove their cattle to market.
Ray: I've heard that it was a short war because it only lasted from 1875 to 1877.
Jane Hoerster: Well, we have people who felt that it lasted a lot longer than that. The German people around here just would not talk about it, and that's the reason that nothing was known. Llano County was involved in it. This is a criminal docket of the district court of Llano County in the 1870s. You'll find all kinds of names in here. See, here's Truitt to Henry Hoerster, the state of Texas, and that's an indictment. John Clark was our sheriff, and he's in here for robbery. See, here's Case No. 2711, the State of Texas vs. H. Hoerster--Charge: Purchasing and driving cattle to market without road brand. August 22, 1872. You see, it just started. The records for Mason County burned during that time.
Ray: Yeah, I read about the courthouse burning.
Jane Hoerster: Most courthouses in Texas, I think at that time, burned. The Hoo Doo War was mainly over cattle and then, of course, came the German element as well as the Civil War. Mainly, those were the three things that people talked about. I think that people are going to bond with their culture and their friends which usually are their culture. There were a lot of people who came into Mason County but really didn't belong here. It was a pretty rough time all the way from the war with Mexico onward because everyone came to Texas. They wanted to get away from everything else. When Germans came into places, there were three things that they had in mind: their family, their schools, and their church. That's what their lives were centered on.
Ray: Do you know if there was any conflict among the citizens of Mason when the Germans voted to remain part of the Union?
Jane Hoerster: I am not aware of any conflict. It happened in other counties. The Germans didn't really go along with slavery. It's not as if some of them didn't have slaves in certain areas. Slavery wasn't a way of life over here. Germans who came here came here to stay, but a lot of other people who drifted in had drifted out. I think that made a lot of difference because the Germans prospered. The reasons for this were because of their beliefs in education and church. That's what you were taught to do.
Jane Hoerster: In Mason, there weren't many slaves but we do have records of having slaves. We also have slave transaction records. Of course, the Todd family had slaves.
Ray: G. W. Todd?
Jane Hoerster: Yes.
Ray: What is his full name?
Jane Hoerster: George Washington Todd. I think that the Greenwood family had some slaves. Tom Gamel told Daniel Hoerster, "We've all done this, so don't get upset about it. It just happens." The Germans didn't think that it should happen.
Ray: Approximately how many blacks are living here now?
Jane Hoerster: We just have Sandy. She's a descendent of the original black people who came to Mason. Her family sort of comes in and out. At one time, we had quite a few. Before World War II, we had a number of black families. They could do so much better away from Mason, and the war showed them that they could.
Ray: I was at the Crosby Cemetery and had noticed Barrel Cactus plants on some of the very old grave sites that are there. Do they mean anything? Are they growing wild?
Jane Hoerster: It's probably because they've been killed out. I don't know.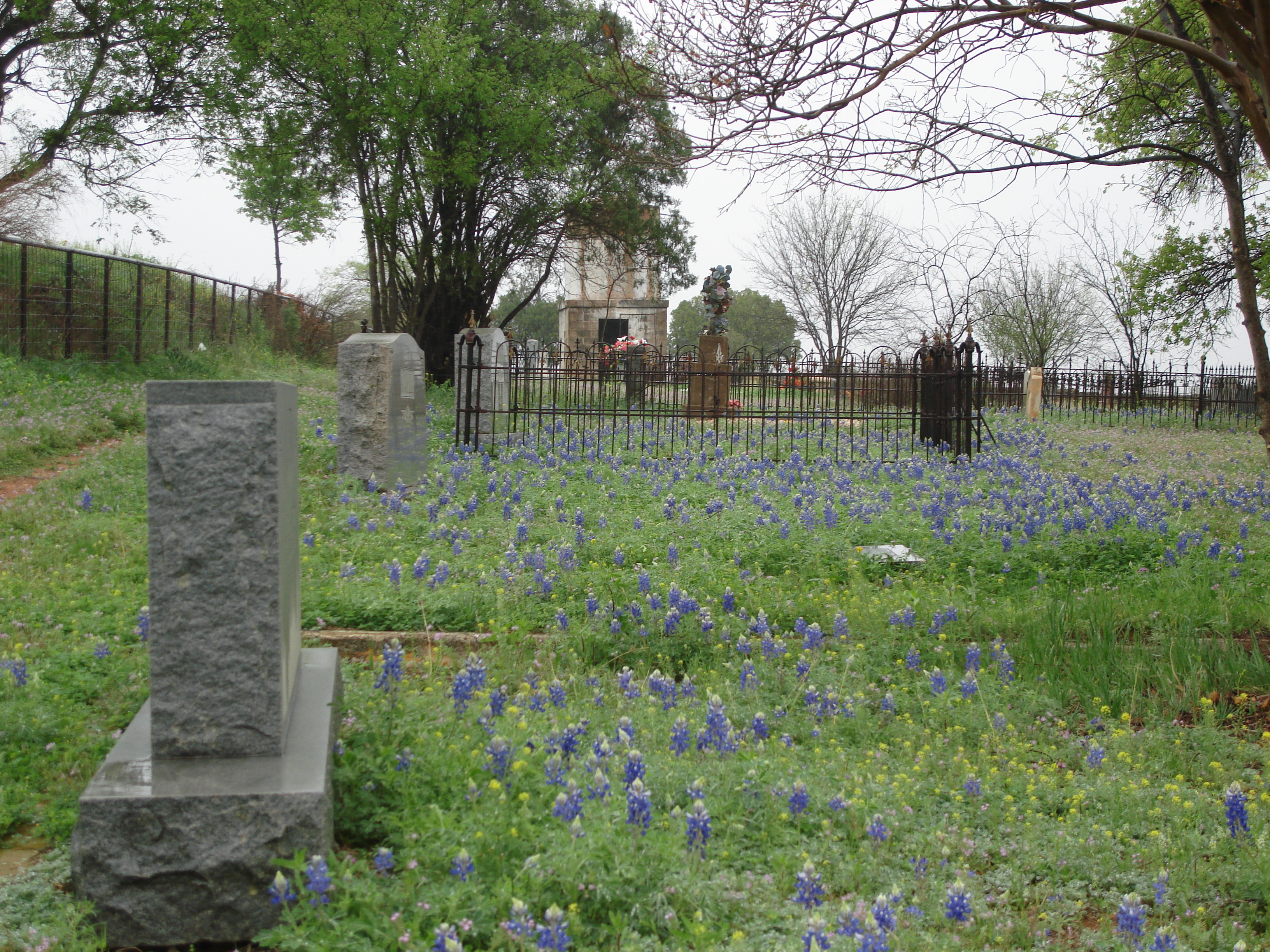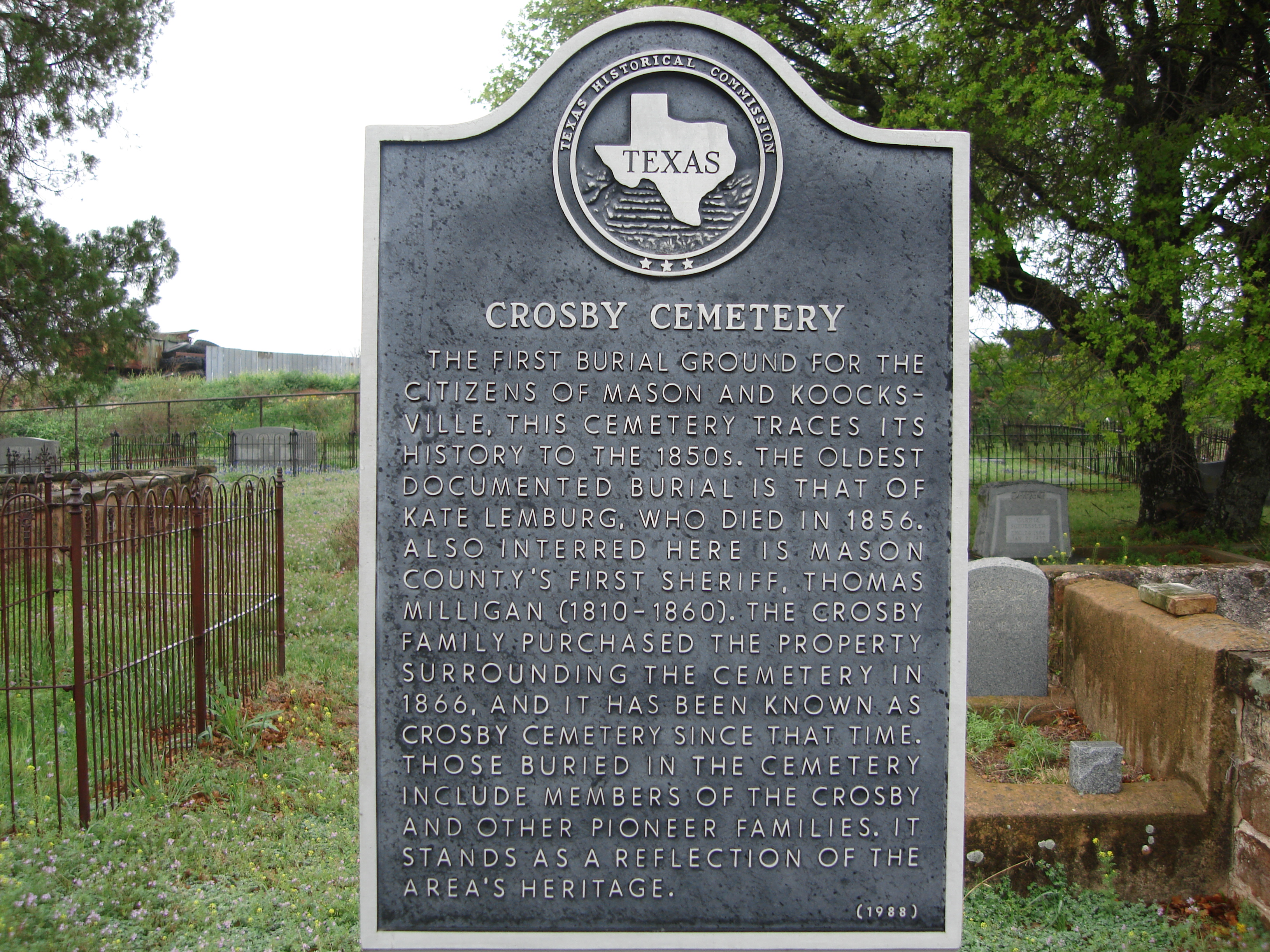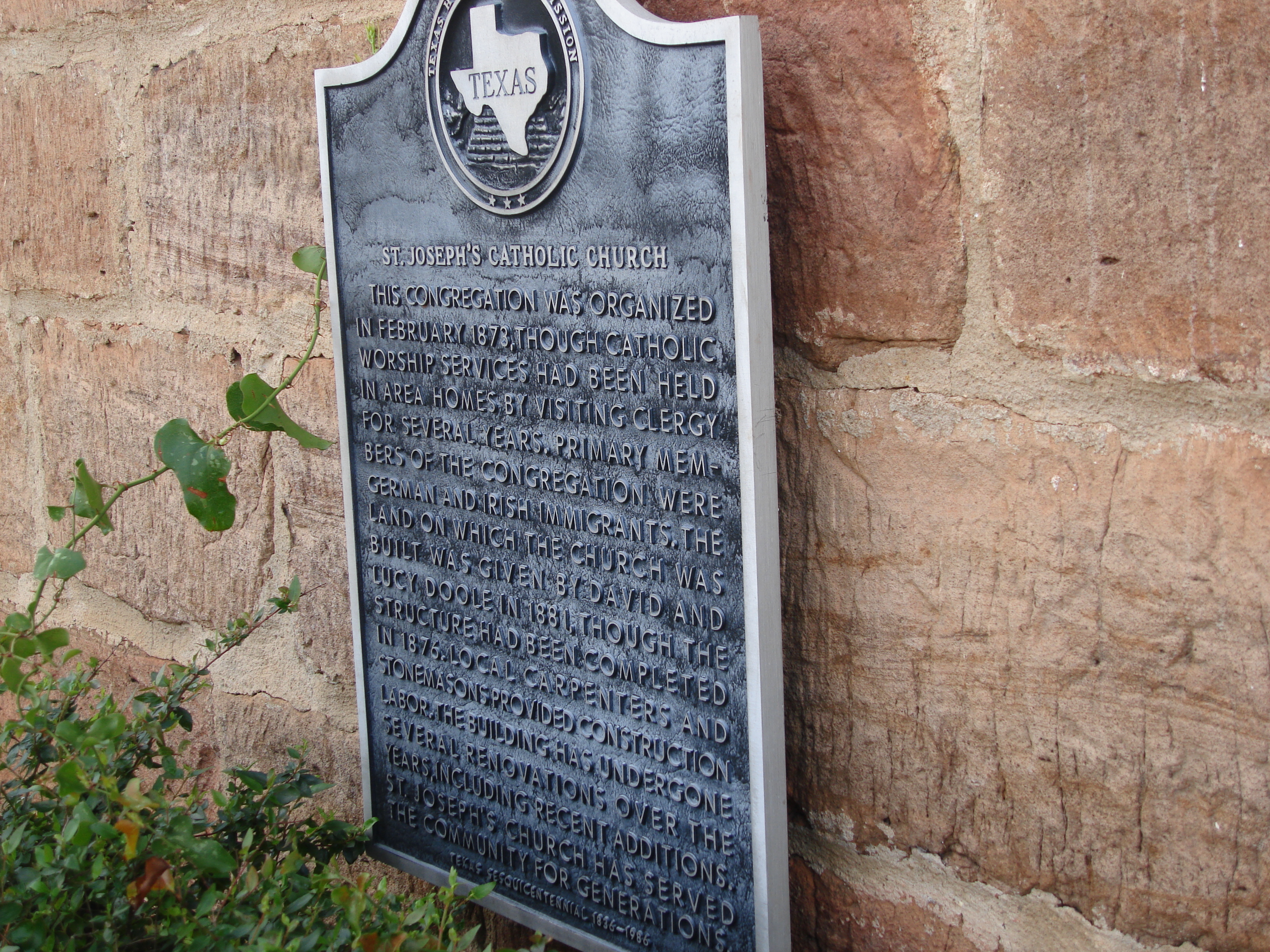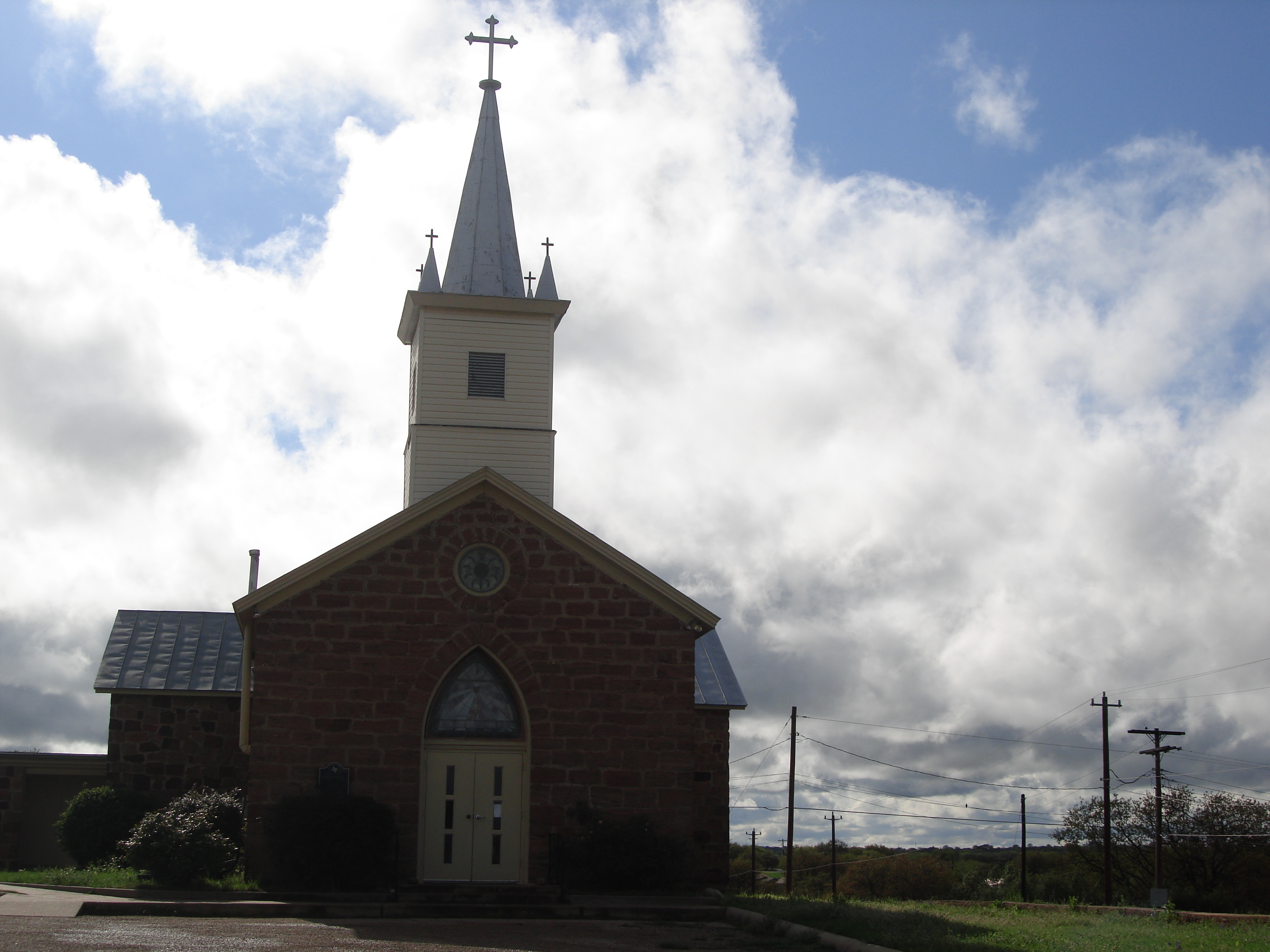 The Crosby family was Catholic. They donated that land. If you noticed, there are all kinds of people buried there. It's become even more of a Catholic cemetery as the years have gone by. There are a lot of Mexicans buried there and there are even some buried at the Gooch Cemetery.
Ray: Unless I'm mistaken, are most people here Methodist?
Jane Hoerster: Well, you know? Strangely enough, when the German people came, they were either Catholics or Lutherans. The Hoerster and the Kothmann families were all Lutherans, but then they became Methodists.
Ray: What exactly is that concrete tower at the Crosby Cemetery?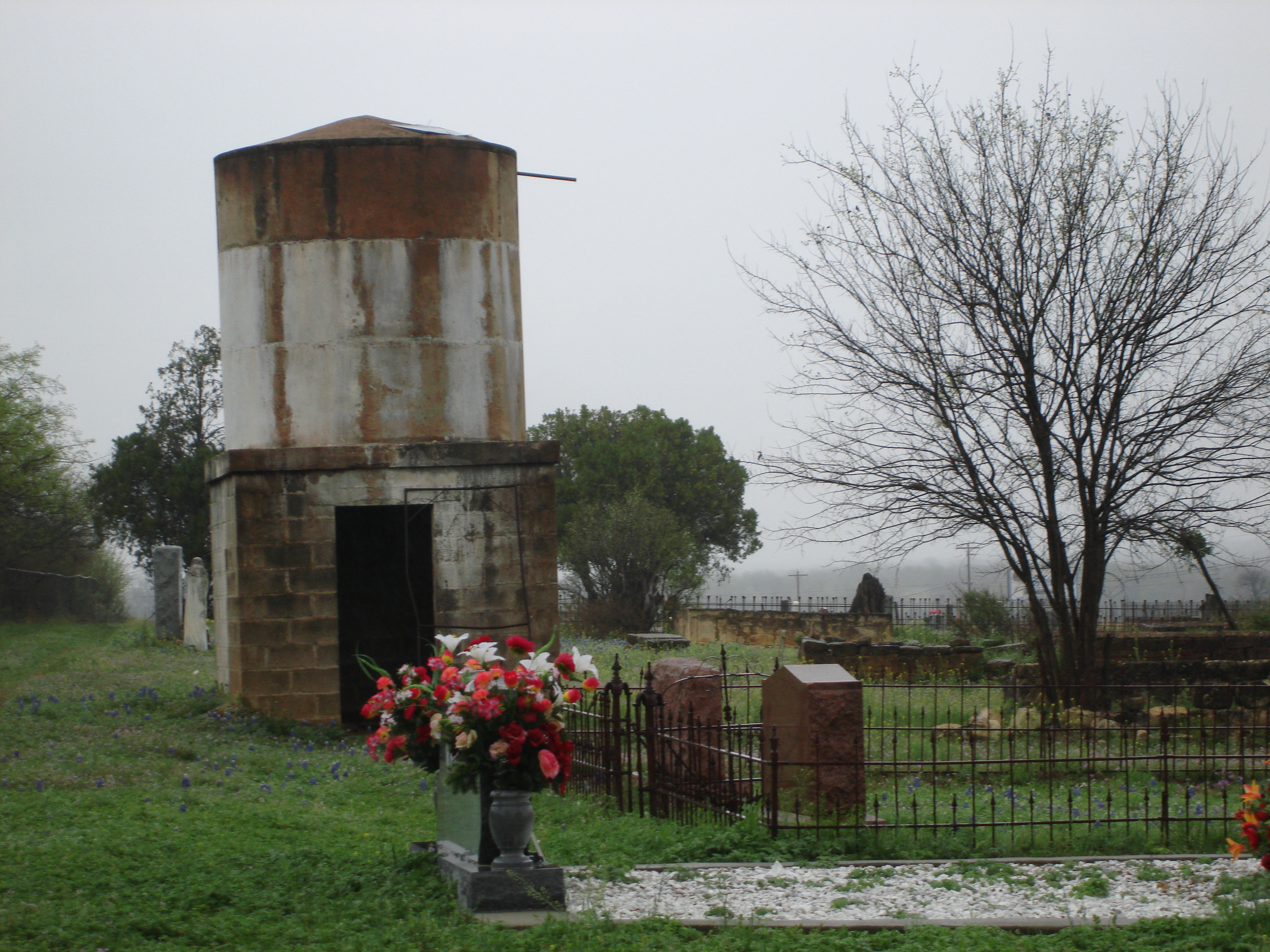 Jane Hoerster: That is called a tank house. It gave the water some height so that it could run. Homes used those tank houses to store vegetables and even milk because the temperature was much cooler inside the tank house. There are troughs that you could run water through.
Ray: It's not exactly like the concrete tower that I saw at the Seaquist Mansion, is it?
Jane Hoerster: Well, they're built differently. Some are square, but a lot of them are round. Mr. Seaquist had a room with a fireplace down there that someone could have lived in. It could have been a room for a servant, but he also used it as a workshop.
Ray: Do you know why Mason has remained small and charming while Fredericksburg has exploded into a tourist trap?
Jane Hoerster: First, let me say that we don't want to become like Fredericksburg. Fredericksburg saved everything. They have a lot of things. Those homes down there are more beautiful that they have ever been. They have a lot of very old homes and Mason doesn't. At one time, close to 6,000 people lived here, with most of them living out in the country.
Ray: Is there is high percentage of high school graduates or college graduates that remain or return to Mason?
Jane Hoerster: There was a time when they all returned. Today, the percentage of those who return isn't very high at all.
Ray: For posterity, is there anything that I haven't asked which you believe people should know about Mason?
Jane Hoerster: I would like for Mason, in many ways, to stay the same. You know, I was amazed one time when I had asked Mr. Marshall why he came to Mason. I sat there for 30 minutes while he told me why he came to Mason and I think it would be a good point. One reason is that you can still write a counter-check. Another reason is that you can still make an agreement with a handshake; and of course, he came here because he likes the people and the atmosphere. He said, "We have been watching Mason for 20 years, and that's the reason why we came to Mason."