Texas Small Town History Project

Palo Alto College, San Antonio Texas

Jessica Hewtty
History 1302

Frio Town, Texas
This town was unknown to me. I only heard of it only a few times in my life and when I was trying to decide a town for this project everyone around me said to do Frio Town. They all told me that it had a lot of history and was big part of Frio County history. Since I live in Pearsall I had numerous people old and young, know of this town. After all, it was our counties county seat at one point in time. Even though the town is not active at this time, it seemed to be an interesting town to learn about.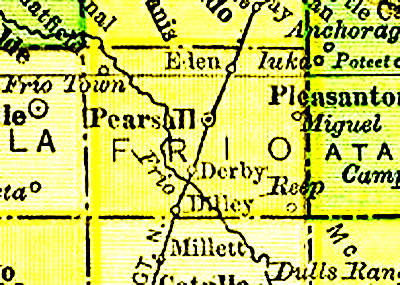 Frio Town, originally known as Frio City, was a frontier community off farm Road 140 directly south of the Presidio Crossing of Frio River, 16 miles northwest of Pearsall in northwest Frio County. The Presidio Crossing, located on the old San Antonio Road, was so named because of numerous cannon balls, swords, and sabers were found there. According to "The Handbook of Texas online," it was said that the crossing was used by Juan Ugalde (Uvalde's namesake), Santa Anna during the Texas Revolution and General Woll when he briefly occupied San Antonio in 1842. A. L. Oden was appointed to hire a surveyor to lay out the town of Frio on land donated in part to the county by H. M. Daugherty, James Speed, and W. C. Daugherty in 1871. Mr. Oden was instructed to advertise and auction sale of lots for four insertions in "The San Antonio Express" and "The San Antonio Herald." The lot auction was to be held on October 3rd, and the lots were to be sold on terms of one-half cash and the balance payable in twelve months. It was stated in "Frio County, Texas A History" pg. 6 that the original plat of the town of Frio shows the town in extend three blocks along the river and to extend back from the river for four and one-half blocks.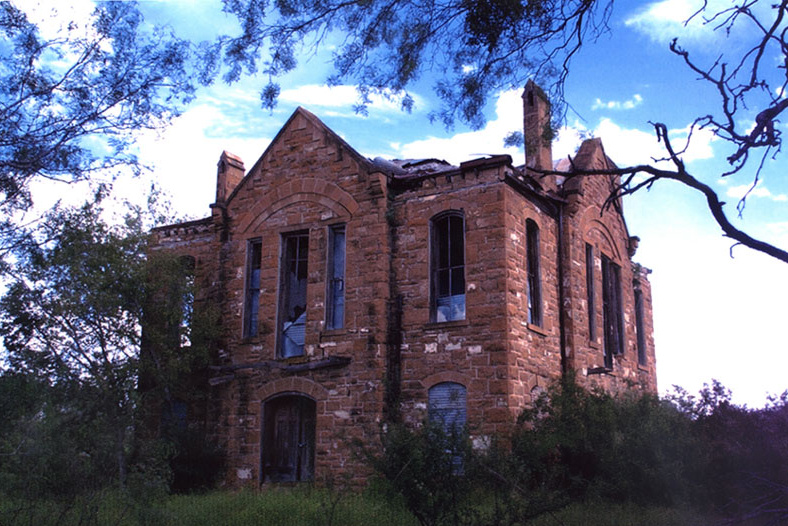 W. C. Daugherty was authorized to purchase the lumber necessary to build a 40x20 foot 'California House' with ten-foot partitions to be used as a courthouse. The lumber was obtained from the saw mill of John Leaky in the Frio Canyon. A contract was let to L. J. W. Edwards to construct the building was for $249.50 in specie, since bank notes were heavily discounted at that time. He completed construction of the court house in January 1872.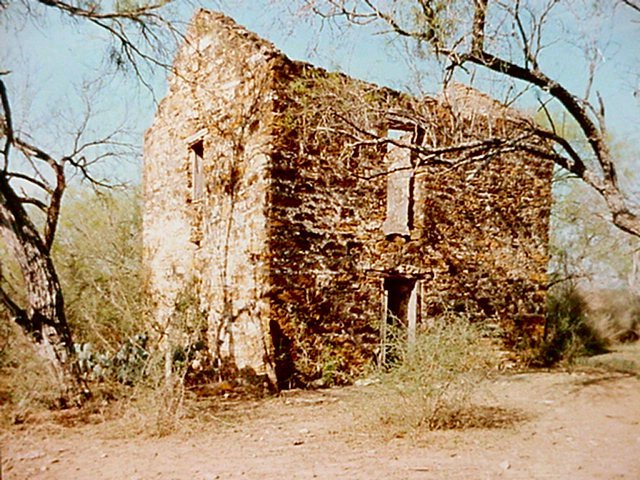 On October 14, 1872, a contract was let to build a good and substantial jail. It was to be 20x24 feet, its foundation to be set three feet in the ground; the walls were to be three feet thick, all to be of hard stone. The floor of the jail was to be laid with flagstones not less then four inches thick; the ceiling of the cells was to be of hewn fire-oak from ten to twelve inches square. Cell windows were to be of iron; doors of cells to be iron bars one-half by three inches wide. The front door was to be of wood and lined on the inside and outside with sheet iron, as described in "Frio County, Texas a History" pg.7. A second story was to have a stairway leading up to it on the outside, and to have not less than nine feet between its floor and ceiling. This second story was to be used for a jury room. The contract to build the building was let to Dempsey Forest for a total of $4,150. In time the jail would house famous personages such as Sam Bass, Jesse and Frank James, and William Sydney Porter. The high cost of obtaining building material from outside led to the establishment of a cypress-shingle mill, brick factory, and lime kiln in the community.
A Frio City post office was established in 1872 by the Post Office Department in Washington. The nearest mail route was from San Antonio to Eagle Pass, on which route mail was carried twice weekly. Frio Town's was located about 45 miles south of that nearest point on that route, and a new mail route would be established between San Antonio and Frio Town by way of the proposed post office at Sweeten's Store and Siestadero and terminating in Frio Town. It gave the total distance from San Antonio as 70 miles. The first mail was delivered to the community on horse back from Benton City; later it arrived from San Antonio by stage.
L. J. W. Edwards was the first post master and first merchant. He moved from Tilden to open a general store. He was soon followed by R. M. Harkness and E. M. Rutledge. In 1874, G. W. Sanders came from Oakville in an ox cart with his bride and bought a store already operating. Other remembered businesses were Gabe Hans' saloon and Dempsey Forest. The county's first school house was held in a private home.
The courthouse burned in 1877, and a new stone courthouse was constructed with assistance of local rancher W. J. Slaughter. Frio City was an outpost of civilization and the town would occasionally fill with people seeking safe haven from Comanche raids. Rangers were called in to solve the Indian mischief and the last incident occurred in 1877. There were reports in the San Antonio Weekly Express of Thursday morning, March 21, 1878 as follows:-"Letter from Frio City- Something about the Place Cornerstone Laying, etc." Frio City, March 9-Editors of the San Antonio Express. " Frio City is a pleasant place situated on the west bank of the Frio fifty-three miles west of San Antonio in the frontier stock country, but a more kind and happier people are not to be found in Texas. We have at this place three dry goods stores, a saddler's shop and post office, besides saloons." Frio City was a "cowboy capital" and outpost cultural center during the 1870s.
In the early 1880s the estimated population was close to 1,500. Evangelists John Wesley De Vilbiss and Andrew Jackson Potter preached in the area; the Rio Grande Baptist Association was organized at the courthouse in 1880. The year the International Great Northern Railroad was extended through Frio County and missed Frio City. In the summer of 1881 Pearsall was established on the route, after which a general exodus from Frio City to Pearsall ensued. In 1883, Pearsall became the county seat, and in 1886 the name Frio City was changed to Frio Town. The courthouse was purchased in 1884 by W. Yancey Kilgoe and it became a general store and post office for the small community. By 1890 the population estimated at 100. In 1916, 17 pupils attended the two-teacher Frio Academy in the former courthouse. By 1914, Frio Town had telephone connections, a general store, and six cattle breeders. In 1929 the community was comprised of the school and five dwellings. The old courthouse was the site of the Rio Grande Baptist Association's 50th anniversary celebration in June 1930. By 1953 Mrs. A. C. Roberts owned most of the structures of the generally abandoned town site, including the courthouse and roofless jailhouse. Mrs. Roberts had an interest in history and contributed what she knew in 1936 article in Frontier times called: "Frio County Has a Colorful History," which remains part of the bibliography of the Handbook of Texas entry for Frio Town. The population of Frio Town remained constant at an estimated 20 throughout the 1960's and increased to 49 in 1969.
The town was also the setting for a TV show called Texas John Slaughter in the 60's. The television series run from 1958 to 1961 as part of the Wonderful World of Disney, starring Tom Tryon in the title role; Tryon later became novelist. The character was based upon an actual historical figure, John Slaughter, a rancher and Texas Ranger, and how he helped clean up various bandits, outlaws and bad guys in Texas.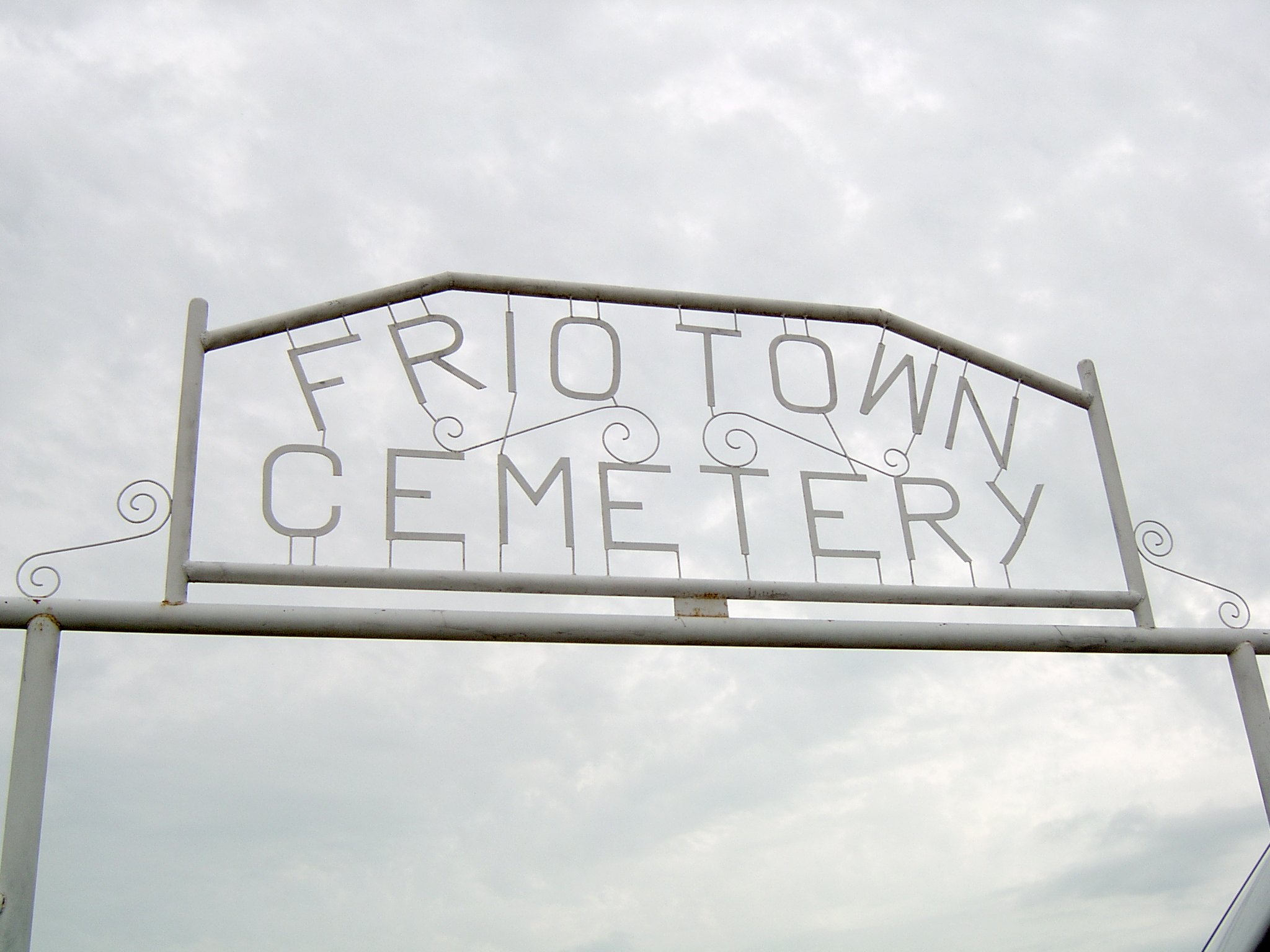 One of the few physical reminders of the historic Frio Town community, this cemetery stands as a testament to the county's early pioneer history. The first burials occurred in 1873, when Calvin Massey (1797-1873) was killed by Indians, and Robert Wesley Hiler (1855-1873) died in a horse riding accident. Among the pioneer settlers interred here are Ben (1813-1893) and Minerva (1817-1895) Slaughter and their descendants, as well as members of the Roberts, Hiler, Little, Loxton, Taylor, Hattox, Blackaller, and Minus families. A number of early graves are unmarked. Six men killed in an Indian raid on the William J. Slaughter sheep ranch in 1876 are buried together in a row of graves. The cemetery also contains the burials of a number of infants and small children, a reflection of harsh conditions on the frontier.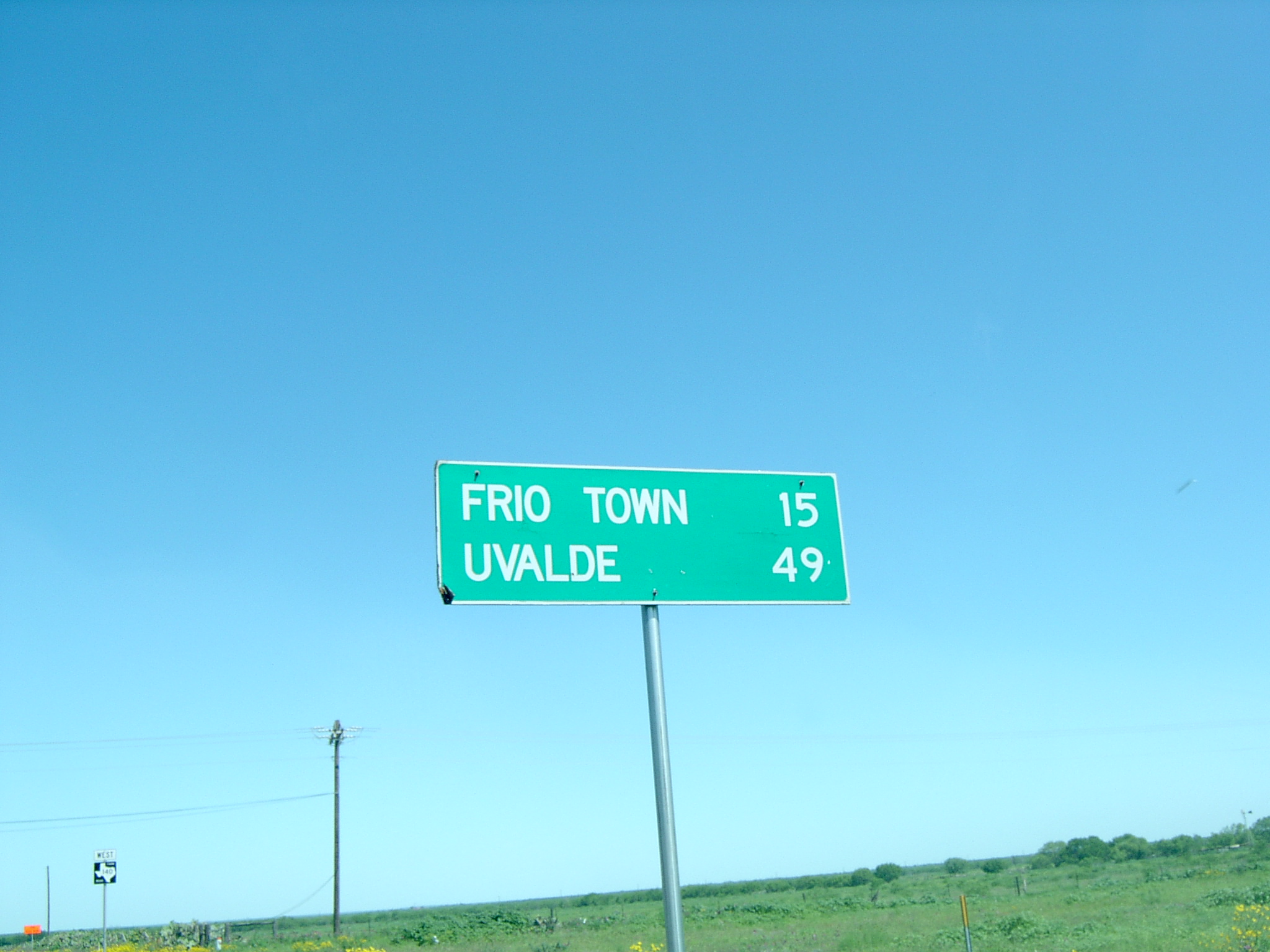 Today the former courthouse, jail, cemetery and of course, the river crossing are all that is left of the once prosperous Frio City. The ruins are on private property, although the cemetery is accessible. The Frio Town Cemetery serves as a remembrance for all people who know that a city once thrived here, but to those who look closely might catch a glimpse of a historical building just off the main road. Still standing as a majestic statement to a promising frontier town once called Frio City is the old city hall. There are no plans to restore the building for it would simply cost too much.
It was a challenge for me to find someone that knew the area well cause when the town was alive it was back in the 1800's, so I went through different people and they all sent me to this lady who had happened to live just down the road from me. She is in her 80's and is a retired teacher. She said that her husband's great great-grandfather is one who had land out there, and is part of the Slaughter family. It was an experience to learn more of this interesting ghost town. She asked for me to just leave her initials V.M.T. as her name.
THE INTERVIEW
J.H-Who were the founding fathers of the town?
V.M.T-I know some of the early settlers but not the founding fathers, some of the early settlers were the Slaughters.
J.H.-What was the agriculture like in that town?
V.M.T-It was mostly open range, it was not grown up with mesquite like it is now. I was open, there was sheep and cattle grazing and probably did limited farming. It was more prarie to raise live stock. I think all the farming came later.
J.H-What did it take to get the jail built in town?
V.M.T-I have read a few things about it but don't know for sure to give you a good answer to that.
J.H-Why did they choose Frio City to be the county seat for Frio?
V.M.T-Because it was there by the river, there was just several families that settled there.
J.H-What were the popular businesses in the area?
V.M.T-There was a general store in that old courthouse, cause I went there when they were still selling things in that genral store.
J.H-How about the crime in the town?
V.M.T-No not sure, I believe there wasn't so much back in those days. I mean they did put people in jail but not too much crime in that area I suspect.
J.H-What do you know about the churches in the area?
V.M.T-I dont know, I think they had services in that old school house, my husband's mother went to school in that little school house. It's now located there next the the old Frio County Jail Museum here in Pearsall.
J.H-Do you know of any major things that happened to the town?
V.M.T-Well there was a lot of floods on the count of the river being so close. The Robert's house out there built somthing to help keep water from flooding the area.
J.H-Do you think there was a lot of discrimination going on in this town?
V.M.T-Well I am sure there wasn't. I don't think there was.
J.H-What can you tell me about the Presidio Crossing?
V.M.T-It is said that Santa Ana made camp there on his way from Mexico into San Antonio for the battle of the Alamo.
J.H-Do know why the James brothers were held in the town's jail?
V.M.T-Don't know, sorry.
J.H-How did the railroad affect the town?
V.M.T-Well it basicly started to disappear and People moved to Pearsall, for school.
J.H.-Could you tell me any thing about Comanche Indian raids?
V.M.T-There's a story about some of the people buried there in Frio Town were sheep herders. Several of them were killed by Indians and that was so open in those days that Mrs. Slaughter didn't see the dust of the sheep herders and they went to go see about them and the Indians had killed them. They are buried there at Frio Town and were they were killed is where our ranch is, the original Slaughter."
J.H-What were the politics like in the town?
V.M.T-Well they had commisioners, some of the early settlers were sheriff. I am sure they had the usual politics in a small town you see today.
J.H-What was the story about the TV Show "Texas John Slaughter" in the 60's? Why shoot it in Frio Town?
V.M.T-I don't know if they shot the series there, but I am sure they taped some of it there. Benjamin Slaughter had three sons, one of them was John Slaughter that went on to Arizona and became a famous law man, another son J.W. Slaughter got a lot the acres in the area and the other son went to New Mexico and has a ranch out there.
J.H-Do you think the town would have lasted if the railroads crossed there?
V.M.T-Well I am sure it would have grown into the county seat we have today.
J.H-Is there any information that you could share with me that I haven't questioned you about?
V.M.T-Mrs. Roberts tried for years to get the state to preserve the old courthouse there and she wasn't successful, they eventually put a marker at the old cemetary. It was a beautiful stair case there in that courthouse. The first time I was in it you could still climb the staircase and now it has just withered away over the years. It was a very unusal structure, it is a shame it wasn't preserved.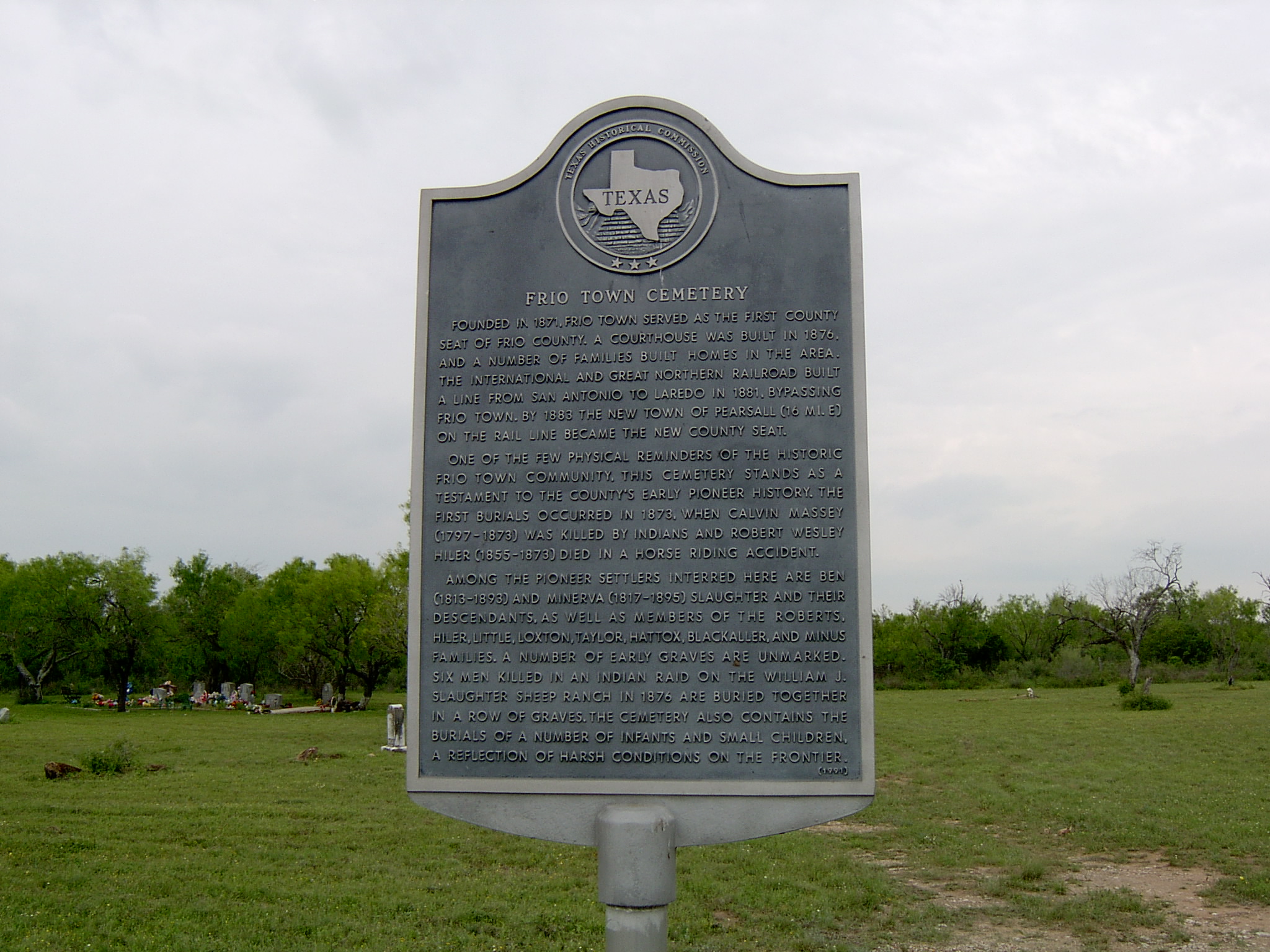 PUBLIC NOTICE: Mrs. Artie Slaughter Roberts, daughter of pioneer Frio County settlers, started a fund many years ago to assist the State of Texas in the restoration of the old Frio County Courthouse at Frio Town. When the State did not come forward with funds to assist in restoration of this historical building, Mrs. Roberts designated the fund balance for use in the care and maintenance of the Frio Town Cemetery, which is located on F.M. 140 in the Northwest part of Frio County, many pioneer families are buried in this cemetery. Through the years, this fund has grown slowly, as donations were made by those wishing to preserve this bit of history of Frio County. The recent death of Bill Roberts, grandson of Mrs. Artie Roberts, has prompted inquiries regarding memorial donations to the Frio Town Cemetery Fund. Such memorials are welcomed and may be left at the Security State Bank or at the office of Jim Hiler at 913 N. Oak in Pearsall. Through recent efforts of Ms. Susan Loxton Clines (another pioneer family) and her stepson, Robert Clines, the State of Texas has assisted in the installation of an historical marker at the Frio Town Cemetery entrance. There will be a public dedication ceremony for this marker on Sunday, November 3rd, at 4:00 P.M. Those interested in the preservation of Frio County history are invited to attend.