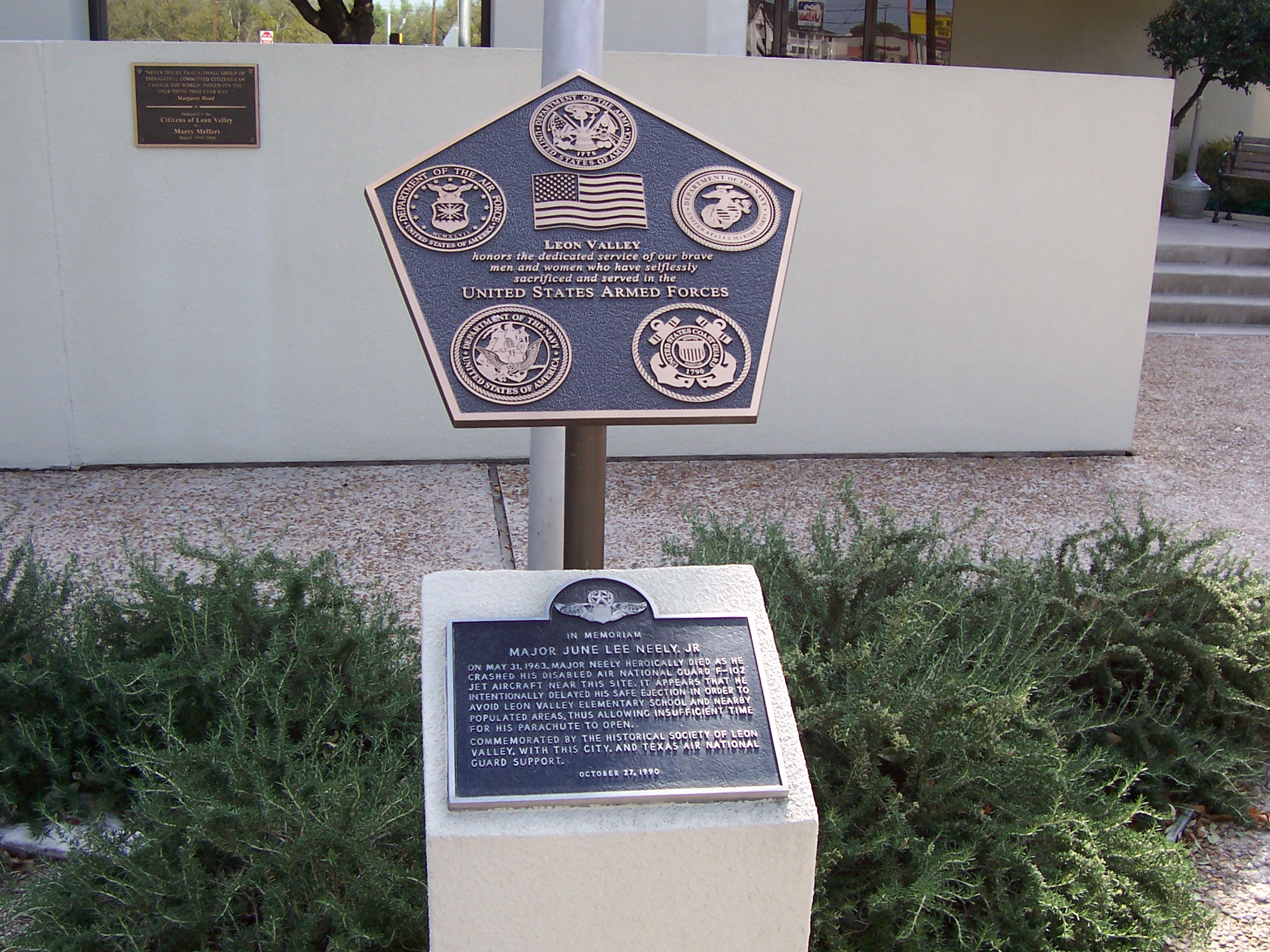 Landmarks: The Evers family cemetery had it's beginning before 1878 and burials of family members have continued through the years, with the most recent in January 1989. Inscriptions on the granite markers...some in the German language, of five generations of German families that immigrated to Texas in 1855. The cemetery is a one-acre tract off Evers Road in 7100 block of Forest Pine Street in a residential neighborhood of the city of Leon Valley. The graves are in the west corner of the fenced two third acre that slopes slightly toward Huebner Creek. In addition to native live Oak, elm and mesquite trees, there is a new oak planted in 1987 in memory of young Ralph Donnelly III. All markers are of grey granite except for one military stone style for a veteran of WWI.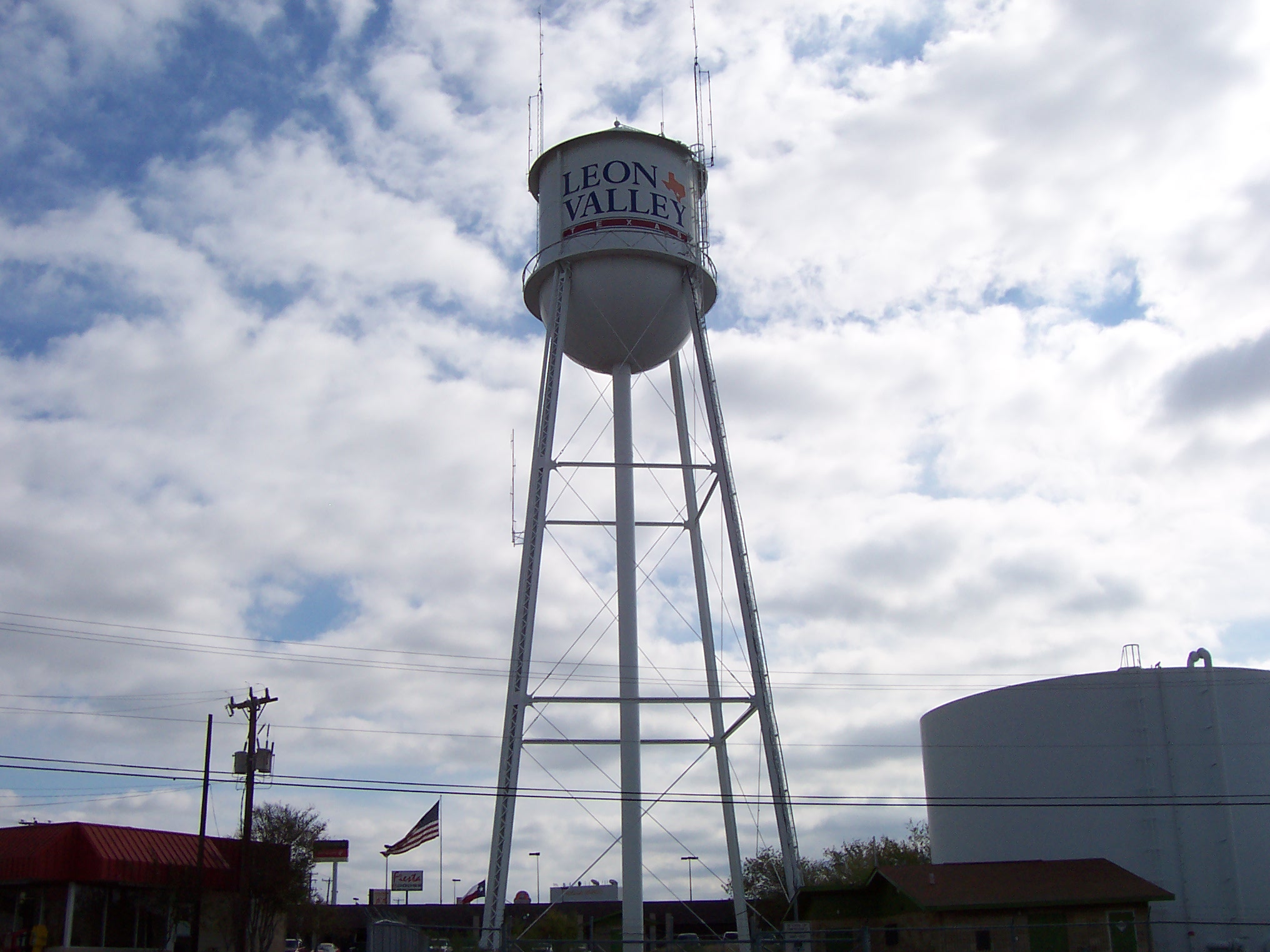 Of the thirty-six graves, twenty-eight are marked. Three of the double headstones indicate future burial places of surviving wives. There are graves of sixteen infants and children and twenty of adults, four of whom served in the U.S Armed Forces.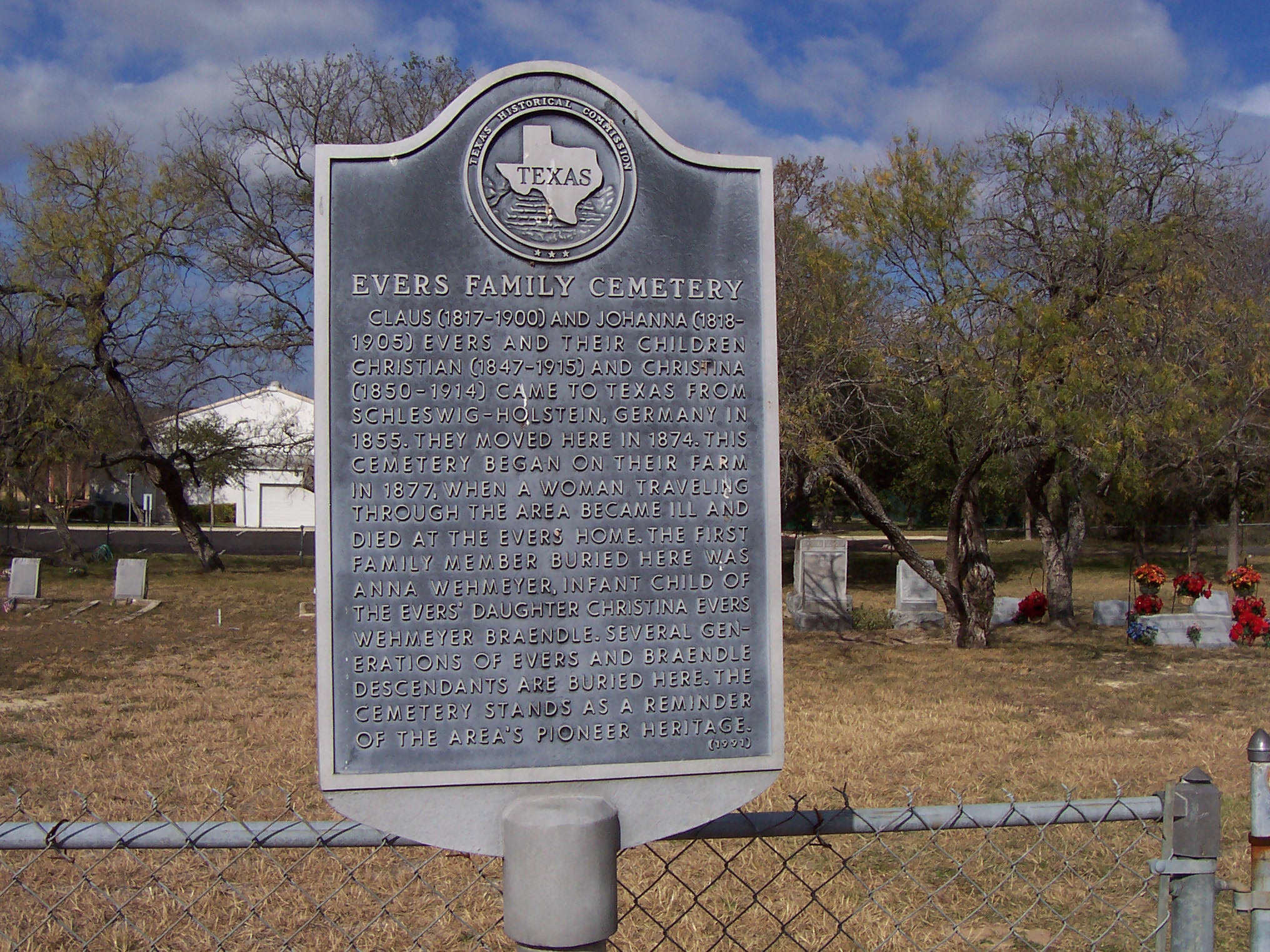 Events: The Annexation Of Leon Valley
The town's founding Mayor, the late Raymond A. Rimkus, operated a meat market, grocery, and variety store in a native stone building at the corner of Bandera and Grissom Roads on the property now occupied by a large Mobil Oil Company station. A historical marker, sponsored by the Historical Society, framed by native stone from the store building, is located on the Bandera Road side of the station. This was the only such store for miles around, and it attracted the patronage of families from the entire area. The Rimkus Store thus became a popular focal point for meeting with friends and neighbors and for the exchange of information and ideas of concern for the community. It was Rimkus who first alerted his neighbors on March 12, 1952 after a newspaper reporter happened to see a map at the San Antonio City Hall showing a plan to annex some 120 square miles of area, including the Leon Valley community. The reporter came to Rimkus' store, one of the few businesses in the area, to ask how the people felt about the annexation. It was that initial action which aroused 133 property owners that same night to sign the petition to incorporate. This petition was filed with the Bexar County Clerk at 8:00 AM the next morning, March 13, 1952. This action disrupted the attempts by the San Antonio City Council to proceed with plans to annex this community only hours later. Leon Valley Incorporation Association was organized, and after due process and unsuccessful attempts by the City of San Antonio to invalidate the move to incorporate, Leon Valley was officially recognized as a city as of March 31, 1952, the date of the canvass of ballots cast on March 29, 1952, at the election to incorporate. The official tally sheet indicated that 169 voted For and 15 Against.
Interviews: Joyce M. Trent(Leon Valley Library director)
Student: When did you come to Leon Valley? Ms. Trent: I came to Leon Valley 30 years ago. Student: What was Leon Valley like 30 years ago? Ms. Trent: Less congested, Bandera Road is 6 lanes now. Bandera used to be over the red school house. Also the former mayor's property used to be where the library is now. And you used to see cows go down the road. Ms. Trent: Leon Valley was a quieter place. There used to be a neighborhood newspaper. It was called Leon Valley News (pause) I think. Student: I see a lot of older folks at the park jogging...? Ms.Trent: There are a lot of older neighborhoods in Leon Valley. The elderlies still go to City Hall and voice their opinions. Student: From my visits here in Leon Valley there seems to be a sense of community here...? Ms. Trent: New families have been moving in, and we're trying to incorporate them into the city's functions and activities to make them feel part of our community. Ms. Trent: Our motto here in Leon Valley is "Big city advantages, small town hospitality." Student: Do you think the new generation will carry on this sense of pride that I see people have here in Leon Valley? Ms. Trent: Well it's the kind of pride that you cannot see here at the city limit. When there was a fire at my house,the fire Chief referred to me by name because he knew it was my house. Ms. Trent: Leon Valley has the advantage of being in between for example a hospital, but without having to pay for having it inside Leon Valley itself. Student: What are some of the unique things about Leon Valley? Ms. Trent: Leon Valley was the first city in Bexar County to offer curb side recycling. Ms. Trent:Buffalo grass is planted in a lot of places, it really helps in the winter. Ms. Trent: Water is also recycled throughout the city. Student: Where do you see Leon Valley heading as a city? Ms. Trent: Leon Valley is moving a positive direction, with new neighborhoods and new homes being built. We also have the task of trying to get the new community to blend in with the old. Leon Valley has a community that is very educated and they have their priority straight. The residents support each other to make things happen. The future looks bright. Ms. Trent: If you want something done, you can get someone to do something about it and you can even go to that person and as the person yourself.