Palo Alto College
San Antonio, Texas
SMALL TOWN HISTORY: Beeville, Texas
| | |
| --- | --- |
| Henry Groenleer | Fall 2001 |
| History 1302 | R.Hines |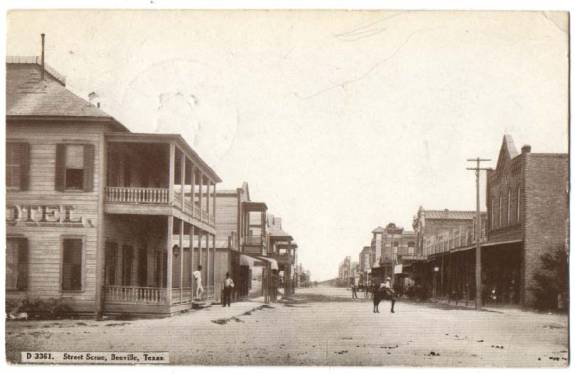 This picture of main street of Beeville, Texas was probably a postcard from around 1902. There's a cowboy on horseback in the middle of the unpaved street and it looks like a guy in his union suit standing on the hotel front porch...with his hat on! The card has a nice April 27, 1909 Beeville cancellation tied to a green one-cent Franklin stamp, and is addressed to Mrs. L C Mahaffey, Ben Avon, PA, from E. Offutt. The card was published by R. Hammond, Beeville, Texas (No. D-3361).
The earliest records of permanent white settlers in this part of the country tell of the arrival of a boat from Ireland in 1834 bearing 16 to 18 families. The boat trip took three months and the landing on the Texas Coast was made at Copano Bay.
Bee County was organized in 1858, carved out of Goliad, Refugio, and Patricio counties. The original county seat was located on the Medio creek seven miles from the present location of Beeville, and the township was called Beeville on the Medio.
In 1859 the county seat was moved to 150 acres on the Poesta Creek donated by Mrs. Anne Burke O'Carroll and the name was changed to Marysville in honor of Mary Hefferman, a surviving heir of the families massacred in 1836 by Indians. The name was changed to Beeville in 1860 because under the Act of the Texas Legislature, when the county of Bee was organized, it was specified that the county seat would be called Beeville.
Bee County was named by the Legislature for Bernard E. Bee, Sr. , who was born in 1787 in Charleston, SC. He came to Texas in 1836 and served the Republic of Texas as President Houston's Secretary of War and President Lamar's Secretary of State. Col . Bee's son, Hamilton P. Bee presided as speaker of the House of Representatives and requested that the county be named in honor of his father. Although Bernard Bee left Texas in 1846, his service as Texas Secretary of State and Texas Secretary of War, was enough to have both county and county seat named in his honor.
A post office was established in 1859 and the next year the first courthouse was built. Captain A.C. Jones, who played a leading role in the development of Beeville, was sheriff of Goliad County before corning to Beeville. In the middle of 1885, Capt. Jones, representing a number of Bee County businessmen and ranchers, petitioned Uriah Lott, a builder of railroads, to route the railroad through Bee County. Frank 0. Skidmore, donated to the San Antonio and Aransas Pass Railroad right-of-way across his land and the streets and every other block of land for the townsite of Skidmore. Through the gifts and influence of Capt. Jones and the sizable donation of Mr. Skidmore, Uriah Lott headed his railroad through Bee County.
On June 14, 1886, the San Antonio and Aransas Pass Railroad reached Beeville, touching three of the five principal cities and affording indirect communication with the great centers of commerce.
Beeville only had about 300 people in 1880, but when the San Antonio and Aransas Pass Railroad came through in 1886, the population rose to 1,000. Beeville got a water works and electricity in 1903 and the sewer was built in 1910. There was a small oil boom in 1929, but it wasn't enough for Beeville to escape the Great Depression.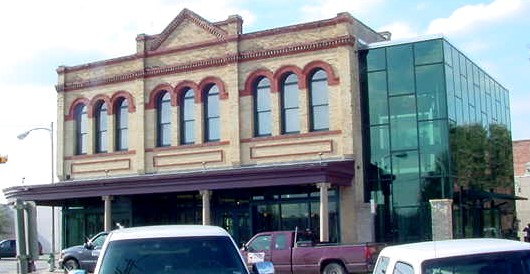 From the historical marker on the side of the building. Joe Barnhart Bee County Library building was originally built in 1906 by businessman Albert Praeger. The building originally housed a hardware store and tin shop, which included buggies and wagons in addition to barbed wire and tools. The second floor was used for storage. In 1925, the store manager was Sam Mitchell and the second floor was converted into apartments. The building was declared a Texas Historic Landmark in 1981.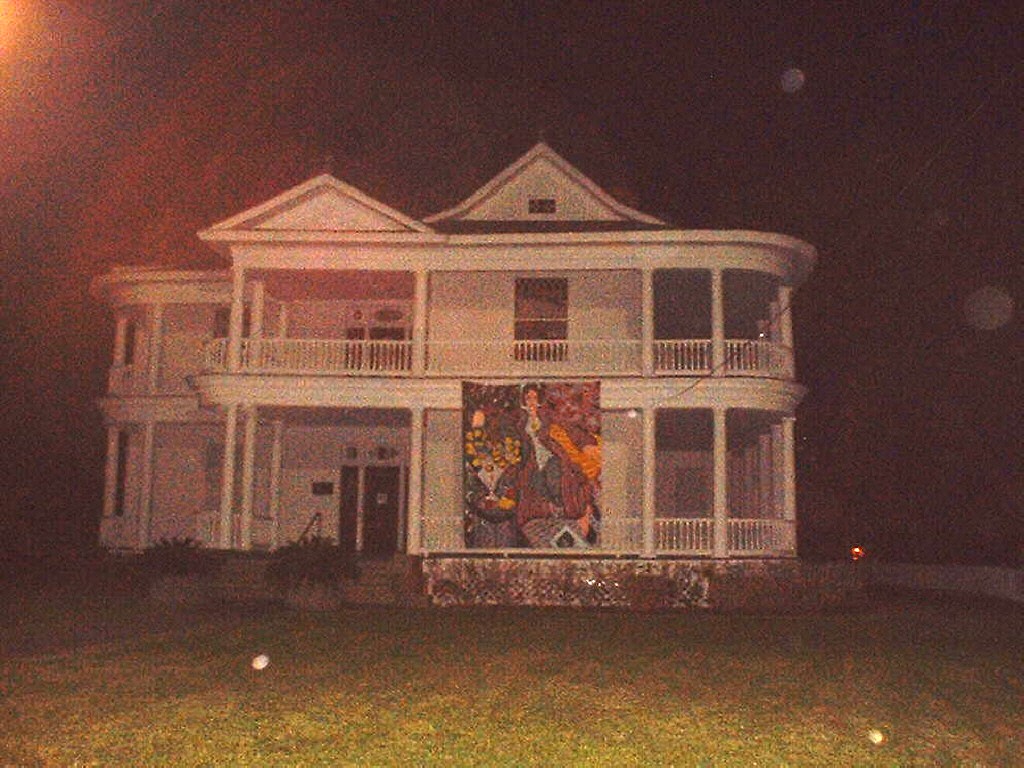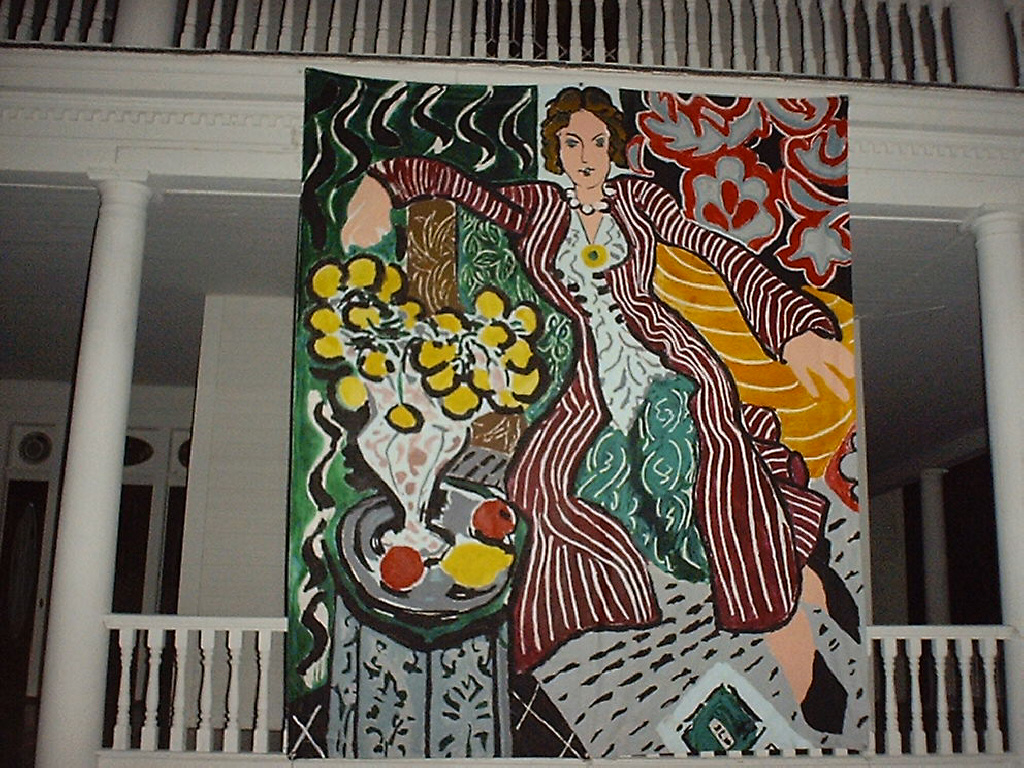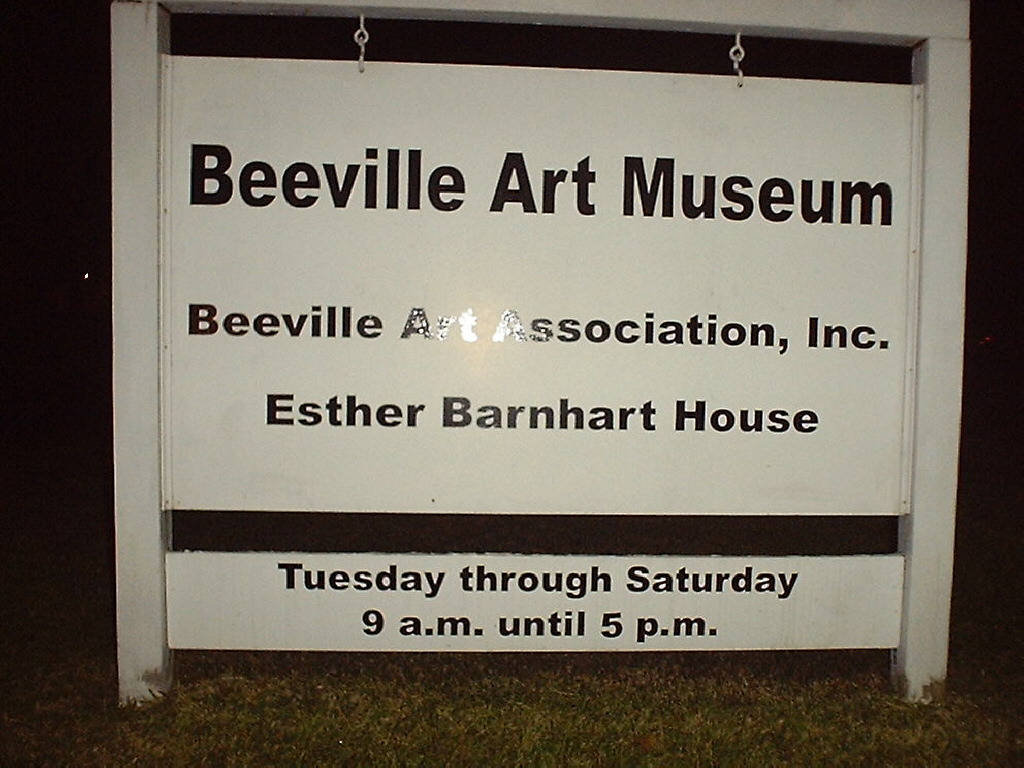 The art work (middle picture) is a Matisse. It is on loan from Houston and is entitled, "Woman In A Purple Coat".
The Esther Barnhart House was never actually occupied by the Barnhart family, but purchased by the Joe Barnhart Foundation for use as an art museum. The house was built for a rancher/banker named R. L. Hodges in 1910. Two or three families lived in the house before its eventual purchase by Doctor Joe Barnhart(orthopedic surgeon) in 1982.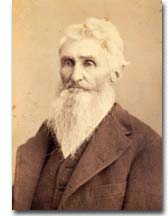 The picture is of Joe Barnhart (1819-1888) for whom the Joe Barnhart Foundation is named, came to Texas some 150 years ago from Pennsylvania at the age of seventeen. Following his discharge from the Army of the Republic of Texas in 1839, Joe married the daughter of John William Smith of San Antonio and lived in a fort he built with the crossing of Double File Trail with Brushy Creek, now north Travis County. The museum is named after one of his children whose sons, John, graduated from high school in Beeville and became a doctor; and Joe, who I spoke to through the Barnhart Q5 Ranch website. His daughter, Claire, who resides at the ranch, is the one who keeps it going now.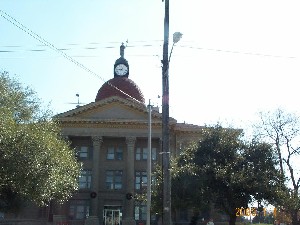 "The third and present Bee County courthouse, with sculptor W. C. Stephensons's Lady, Miss Justice, atop the clock dome and four Corinthian columns to grace its north entrance, stands much the same as it did July 18, 1912, when first occupied by the departments of county government. Contractor Whitney's death delayed completion by Fritz W. Heldenfels until 1913, although the county officers had used the unfinished building for several months. Sidewalks and a pergola, which C. A. Betts took up collections for, shrubbery, which W. P. A. Chairman Mrs. A. C. Jones worked to obtain, and removal of the iron fence beautified the lawn. The courthouse plaza was paved in 1926. The south annex was added in 1942 and the structure was completely remodeled in 1949-1950, when an elevator, air-conditioning, and eleven rooms were added, with Robert Beasley as the architect." -from Bee County Centennial, by Grace Bauer. copyright 1958. p. 15
On June 1, 1943, Chase Field was commissioned as an Naval Air Auxiliary Station to train naval aviators during World War II. The base was named for Lt. Cmdr. Nathan Brown Chase, who went down in the Pacific on a training flight in 1925. After the war, Chase Field was closed until 1953, when it was reopened during the Korean War to help with the overcrowding at NAS Corpus Christi. In July 1968, Chase Field was elevated in status to a full naval air station. With the end of the Cold War and the dissolution of the Soviet Union, the number of armed forces was greatly reduced and on July 1, 1991, Chase Field was put on the list for closure. VT-26 was decommissioned May 22, 1992, with VT-24 and VT-25 decommissioned on September 18, 1992. Finally, on February 1, 1993, Chase Field was officially disestablished, bringing an end to fifty years of service in naval training.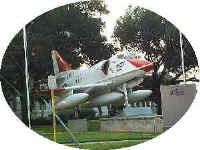 On placard pic Douglass A4 Skyhawk Carrier based jet attack aircraft designed for the U.S. Navy and Marine Corps. Early models of the A4 entered service in 1956 and were produced a longer time than any other jet in the world. Its simplicity and effectiveness allowed numerous improved models to be developed. The A4 series was used extensively in Vietnam and is still in wide use by the Navy Marines and several foriegn nations. The TA 4J Trainer, a two seat version is used for advanced jet training of navy and marine corps aviators at training Air Wing Three NAS Chase Field. Wing Span 27 feet, 5 inches Length 42 feet, 10 inches Maximum weight 22,500 pounds Maximum speed 680 MPH Range 2000 miles Presented by US Navy.
In the 1890's, Beeville was known as the "Forest of Windmills". There was a windmill in almost every yard until as late as 1934. Lemons, oranges, grapefruit and even olives were major crops in the area from around 1911 until the early 1950's when a killing freeze wiped out most of the trees, the remaining ones were killed by a disease.
Famous people who lived in Beeville at one time or another include Lincoln Borglum, the sculptor who finished Mount Rushmore, that his father, Gutzon Borglum began, and J. Frank Dobie, well-known western author and teacher.
Other famous people that visited Beeville on a regular basis include President George Bush and baseball pitcher Nolan Ryan. President Bush hunted each year at the Lazy F Ranch in Goliad Co. and Nolan Ryan worked summers at his uncle's dairy farm.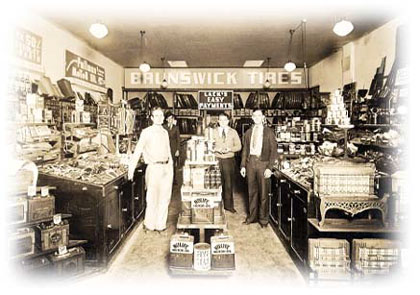 Well-known companies that were started in Beeville include the Adams Extract Co. and Lacks Furniture. Lack's Stores, Inc., a Texas corporation, was founded in 1938 by its present chairman, David B. Lack, and is one of the largest, independently-owned retail furniture chains in the United States.
The nucleus of the current Company was formed on February 28, 1938, when David B. Lack opened a small auto supply store in Beeville, Texas. Because of the chronic shortage of cars and new auto parts during World War II, Dave Lack diversified into furniture in an attempt to maintain sales volume. Furniture did well, and so became a growing segment of Lacks total business.
In 1952, by which time the Company had expanded to five retail stores, Lacks made a commitment to become a furniture and appliance chain. It continued to carry auto supplies, tires and other hardware items at all locations, but the merchandising emphasis switched to home furnishings. The original automotive and hardware merchandise was eventually phased out in the 1970's.
Today, Lacks operates 37 retail home furnishings stores in 28 cities. These stores are supported by two major distribution centers and two service centers. According to recent surveys by Furniture/Today, an industry newspaper, Lacks sales volume places it among the top furniture retailers in the country.

Click on map to see larger view.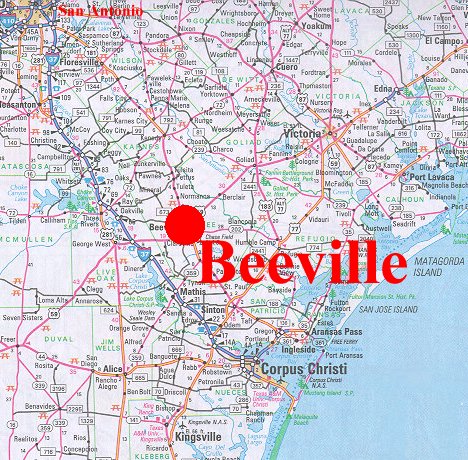 1. Take the I-37 SOUTH/US-281 SOUTH ramp towards (I-10). 0.4
2. Merge onto I-37 S/US-281 S. 7.2
3. Stay straight to go onto I-37 S/US-181 S. 1.6
4. Stay straight to go onto I-37 S. 28.7
5. I-37 S becomes I-37 S/US-281 S. 31.1
6. Stay straight to go onto I-37 S. 16.2
7. Take the exit, exit number 56, towards GEORGE WEST(US-59)/BEEVILLE. 0.1
8. Keep LEFT at the fork in the ramp. 0.1
9. Keep LEFT at the fork in the ramp. 0.0
10. Merge onto I-37 S. 0.1
11. Turn LEFT onto US-59 N. 18.4
12. Turn RIGHT onto US-181 BR/US-59. 0.1
13. Turn LEFT onto US-59.

Facts: Bee County Population: 27,659 (up 10 percent from 1990)
County seat: Beeville (population 14,284)
Location: Northwest of Refugio County, north of San Patricio County and east of Live Oak County.
Size: 880.3 square miles
Climate: Mean July maximum temperature - 94; mean January minimum temperature - 41; annual precipitation - 32.1 inches.
History: Karankawa, Apache, Pawnee and Comanche tribes' territory. Spanish land grant in 1789. Irish settlers moved in, 1826-1829. County organized in 1858. County named for General Barnard Bee, Sam Houston's secretary of War.
Economy: Oil supplies, state prisons. Agricultural production includes cow/calf operations, horses, feedlots, grain sorghums, corn, wheat and cotton.
Statistics: Crimes per 1,000 residents (1998) - 31.139; Pregnancies per 1,000 women ages 15-44 (1997) - 84.1; Voter turnout (1998) - 44.05 percent; Per capita income (1998) - $15,007


Interview with John Ibanez Henry: What is your relationship to this town?
John Ibanez: From about 1989 to 1994, I was mayor of Beeville.
Henry: What made you decide to run for mayor?
John Ibanez: To contribute to the community.
Henry: What is the demographs of the population?
John Ibanez: About 55% Hispanic, 40% anglo, and 5% African-American or Indian (other).
Henry: What are the predominant religions?
John Ibanez: Catholic and Baptist.
Henry: Where would be a good place to start when I get there?
John Ibanez: The library, the courthouse, the newspaper, and the museum.
Henry: How do I get there?!?
John Ibanez: Take 181 South or take 37 South.
Henry: What is the population of Beeville?
John Ibanez: about 18,000.
Henry: What is the rough average income in Beeville?
John Ibanez: $15,000.
Henry: Other than farming, what type of jobs are available in Beeville?
John Ibanez: Mixed Light industry, government jobs, prison jobs, and education.
Henry: Thanks Mr. Ibanez.

Annotated Bibliography www.beeville.net
Handbook of Texas Online
Beeville Library


Interviews

John Ibanez (Former Beeville Mayor)
John Barnhart (Descendant of Joe Barnhart), Barnhart Q5 Ranch Phone Number 713-622-5550
Cherie BonneCarrere (Adult Services Librarian), Beeville Library Phone Number: 361-362-4901
Teresa Holland (Beeville Chamber of Commerce), Chamber of Commerce Phone Number: 361-358-3267
Brenda Fleming Pawelek (Director of Beeville Art Museum), Beeville Art Museum Phone Number: 361-358-8615

Return to Small Town Research Projects Index
---